Give a gift to warm their home and their heart with this striking selection of sunflowers paired with goldenrod and greenery. This captivating bouquet will create a buzz for anyone lucky enough to receive it and is sure to brighten a day with its own rays of sunshine! Make a summer birthday shine bright with this glorious gift.
More about this bouquet:
Yellow sunflowers
Goldenrod
Decorative greenery
* Vase not included
We can guarantee the best quality flowers for each order.
100% Satisfaction guaranteed.
FloraQueen always sends the highest quality flowers.
All our flowers are shipped fresh, directly from our florist.
We always deliver on time!
FQ120
Warm Sunshine: Sunflowers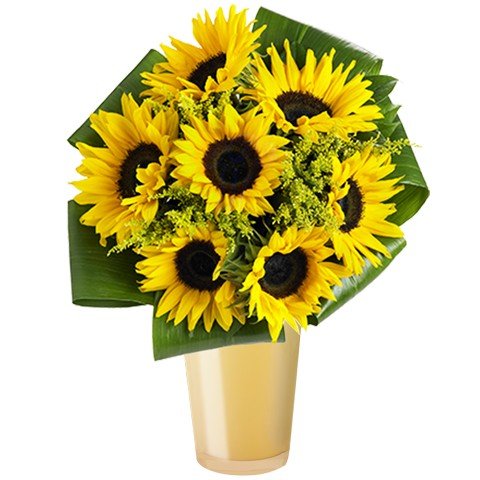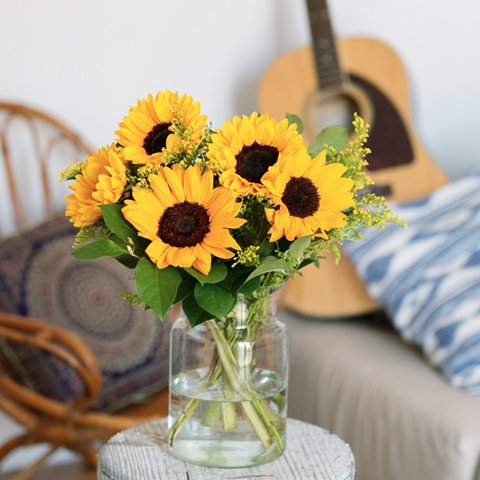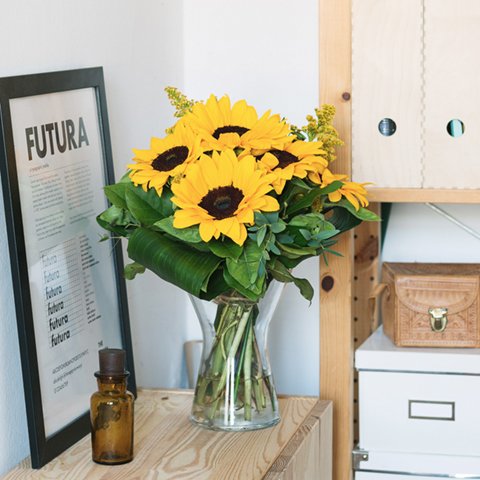 Punctual Delivery
Beautiful fresh flowers
Anywhere, anytime
Punctual Delivery
Fresh flowers
Expert florists
Bouquets you can enjoy for longer.
Some flowers arrive a little closed to ensure extra freshness and protection during shipping. Enjoy the magic of seeing them fully bloom.
What our customers say
20-09-2018
Quick and beautiful, and Thanks for the vase (because the first driver got an accident on Wednesday)
16-09-2018
Gorgeous! Absolutely love it
Janina P Lewis
(bialystok)
16-09-2018
Very timely delivery, couldn't be better. Beautiful flowers!!!
Samrawit
(Frankfurt am Main)
10-09-2018
Very beautiful sun flower bouquet
30-08-2018
Excellent Service, very quick, good quality of flowers. Not cheap, but compared to other companies absolutely okay when also considering quality and reliability.
01-08-2018
It was a great surprise! Thank you very much :)
Kelemen,
(Budapest - Hungary)
24-07-2018
It was a surprise present - the flowers and the delivery was perfect.
16-07-2018
Lovely unexpected flowers, great service
27-06-2018
Flowers are beautiful and the service nice and friendly!
14-06-2018
Lovely surprise. Nice delivery man. Great quality flowers.
13-06-2018
It was so beautiful! Loved it
15-06-2017
Always a flawless serviceI am ever so impressed by the professionalism of FloraQueen, I love surprising my loved ones with unexpected bouquet of flowers and your service NEVER fails to impress with regards to quality of the flowers, the delivery time and the overall experience.big kudos to flora queen!
Irina Pashkova
14-08-2016
I was excited to make a surprise for my friend and result met all my expectations. Flowers were magnificent and delivery was timely and quick!
Alexander Riches
22-06-2016
My wife in Rome was delighted with her roses and sunflowers I sent this month . The only bad part of it was that I could not be there for her birthday. Meno male! the flowers eased the pain of separation. thanks FloraQueen Alex
Jennifer Mallegni
22-07-2015
The bouquets are very beautiful and cheaper than interflora. The best thing is that the delivery costs only 3euro (and not 17 euro as interflora proposes).
Jeremy
10-09-2014
Ordered flowers as a thank you. Flowers still slightly in bud, well presented and recipient very pleased with the quality and presentation
Carmen
02-09-2014
I am so pleased with you guys :) I ordered a flower delivery this morning for my friend in France, and she's just texted to say how impressed she is with your service. When the delivery lady phoned her, she asked if my friend preferred to speak English because my email was in English (which she did) and they came right up to her door and delivered the flowers right when they said they would!! No confusion or mix-ups whatsoever (my friend isn't French and is trying to learn the language at the moment). Thank you for making my friend's day, and mine. Well done!!
Show more reviews
Show fewer reviews