There's nothing better than a colourful surprise when it's time to celebrate and this ideal pairing of pink roses and mixed gerberas will help you to make your fantasy a reality. Use it today to mark a loved one's birthday or to say "congratulations" on the arrival of a new baby!
More about this Bouquet:
Orange Gerberas

Green Chrysanthemums

Premium Pink Roses

Assorted Greenery
* Vase not included
We can guarantee the best quality flowers for each order.
100% Satisfaction guaranteed.
FloraQueen always sends the highest quality flowers.
All our flowers are shipped fresh, directly from our florist.
We always deliver on time!
FQ2000
Colourful Fantasy: Roses and Gerberas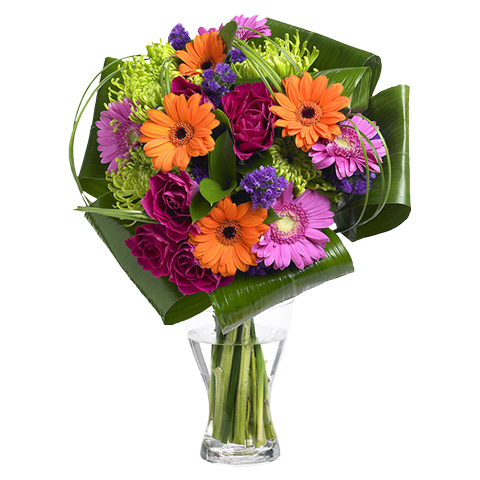 Punctual Delivery
Beautiful fresh flowers
Anywhere, anytime
Punctual Delivery
Fresh flowers
Expert florists
Bouquets you can enjoy for longer.
Some flowers arrive a little closed to ensure extra freshness and protection during shipping. Enjoy the magic of seeing them fully bloom.
What our customers say
21-07-2018
Perfect. I m very satisfied
26-06-2018
Beautiful vase and bouquet. Lovely prompt service although it was my surprise. A lot of green foliage would be so lovely to have more fragrances flowers :) nonetheless it's gorgeous and I am so thankful!
03-03-2018
Very happy - 5 star efficiency!
21-02-2018
Petit bouquet from Paris to Berlin..
06-01-2018
Perfect service and perfect product!
30-11-2017
Very fresh flowers and friendly delivery person
Jimmccarthy
(Artes-Riveira (A Coruña))
21-11-2017
Excellent service and quality flowersThe website is easy to use, the flowers that were delivered were in great shape and had nice presentation. I sent my girlfriend flowers, she lives in a tiny village in Spain and I had lots of doubts on whether the flowers would arrive to the correct location. They arrived to the correct address, on-time and they look great, the card I order also arrived and was written exactly how I asked. This service is amazing and I am so happy to have found it!!!!!
Maryann Gonsalvez
(Cairo)
19-11-2017
Fresh flowers but can improve on delivery timing
18-11-2017
Ordered from uk. Delivered on date very pleased with service lovely bouquet.
Delliauxfrederic
(Berlin)
20-10-2017
excellent service and quality products
Stanley Bermudez
(Ferrol, La Coruña)
30-09-2017
I have send flowers with FloraQueen and I have no complaints. They have been very good.
George Pullen
(Caerano di San Marco)
07-09-2017
Definitely on time (next day delivery, U.S. for Italy) and with an arrangement that was better than expected.
23-08-2017
Great service and product delivery. I will use their services again.
Maria Jose Marin
(Fethiye)
15-08-2017
Hello, I ordered a nice classic bouquet to be delivered in Turkey. The delivery was made on time, with the special request and birthday card that was purchased. The only thing that I disliked is that the flowers received were not the same as the ones in the photo, and they did not have the same arrangement around them. The colors were halfly similar... not sure if this varies between countries etc. Everything else was correct.
14-07-2017
Its already the fourth time I'm sending flowers to my girlfriend and every single time I am amazed how convenient it is. First time I've been sceptical and afraid but as soon as my girlfriend send me photos of the beautiful boucket of flowers I totally happy. No matter where she at moment was they arrived on time and as ordered. Been sending them from Germany to Estonian, Georgia and Czech Republic. The prices are totally fine - almost same price as at normal florist. Just excellent! Great job!
Ina Kafuffle
(Sankt-Peterburg)
29-06-2017
Good service, no problems. I'm a regular customer these days. Apparently the chocolates are yummy.
Nicola Jones-ford
(Tuszynek Majoracki)
12-06-2017
I have found this company and their service to be excellent and would use it again without doubt.
Maria Johnson
(Monsummano Terme)
08-06-2017
I placed the order on the Friday for delivery on the Monday and this went smoothly. The recipient was pleased with the flowers although I was a little disappointed that the bouquet didn't look as amazing as the photo on the website.
10-05-2017
FloraQueen went above and beyond to get the flowers to my friend in Croatia. I can't thank them enough. I would certainly use them again and recommend anyone else to use them.
07-05-2017
Had a hard time looking for English website to order a flower/gift as a surprise for my husband who is in Spain to visit family. The parcel arrived on time and beautifully wrapped as the photos on website showed. Very impressed! Will use FloraQueen definitely! Well done!
Mladjan Matavulj
(Berlin)
24-04-2017
Excellent experience! Fast delivery and beautiful flowers.
24-04-2017
Great Service! I would recommend this company to anyone. Thank you.
01-03-2017
I found this website and it was the only website that had Azerbaijan in their country listing. And I was worried about delivery to the country on the other side of the world from me. (Canada-Azerbaijan). Once I chose the bouquet and placed the order, the process of international delivery was easy, the delivery was available as soon as the next day, I didn't place any cards (that was offered by FloraQueen ) because I wanted it to be surprise. I must say I was impressed! They sent me emails to inform me of their every step, the delivery was prompt, the service is amazing, my relative didn't want to accept flowers since she didn't know the recipient, they emailed me right away to ask my permission to reveal my identity, surprise was successful thanks to FloraQueen! The bouquet was identical as seen on the website and fresh! Highly recommended!!!
07-02-2017
The experience was good, in time
Wouter Lusink
(Winsum gn)
16-01-2017
It was very easy to place an order. The bouquet was delivered on a saturday, for a little extra fee, and the recipient was very happy with the beautiful flowers!
19-12-2016
Living in NZ and wanted to send flowers to friend in netherlands so google searched to find what available. floraqueen came up and they made it a very easy process with choosing flowers, to payment and updates about delivery. no hesitation in recommending after this experience and hope it works well for you too.
Mr. Ken Cansell
(Rottenburg an der Laaber)
09-11-2016
Very clear web-site, easy to order and delivery very good.
28-10-2016
I live in Australia and ordered flowers for my exchange daughter who lives in Germany. The flowers were beautiful, looked exactly like the photo on line and arrived on time! She loved the card that was also sent with the flowers. It was so easy to order and everything went smoothly. I would definitely use FloraQueen again.
Sandra Rodgers
24-06-2015
Was very impressed with Flora Queen from ordering to delivery, and the flowers sent were excellent would highly recommend...
Lana
15-05-2015
"You guys are amazing! I can't believe how fast you processed my order and delivered flowers. Thank you and keep doing a great job. Special thanks to Gladiola flower shop in Vukovar, Croatia."
Susanne
17-04-2015
Flowers are always beautiful I order from the U.S. to be delivered to Germany. If I have a question there is prompt response on a regular business day! Will use again. Thanks.
Lawrence Stribling
17-04-2015
Flora rang to follow my failed attempt at their web page The florist in Lucca delivered on time The recipient was delighted
Kimmy
16-04-2015
I was very pleased with the website and the service I received. The flowers were delivered on time and were very much appreciated. Although I haven't seen the flowers I was told that they were beautiful so thank you very much :-)
Trish Gant
11-04-2015
Really lovely, generous bouquet for my mum in Spain. Thanks .
Lucy Moon
10-04-2015
I made my order from England to be delivered in Cyprus two days later and not only were the flowers delivered in the morning but they were fresh, EXTREMLEY beautiful and an an excellent service throughout! I was so impressed and will definitely be using FloraQueen again!!
Renate Heidrich
08-04-2015
This was the first time ordering through this company. It was a pleasure doing business. I ordered via internet from the USA to Germany. Very good price and delivery prompt on the day requested. I will definitely order again in the future.
Sarah Hall
04-04-2015
Excellent service - ordered flowers for my daughter in Spain. Communication was excellent too and the products were first class. Highly recommended and very good prices. Would definitely use again.
Laura
26-03-2015
I ordered my Nan who lives in spain some beautiful flowers late one evening. The very next day they were delivered, and boy did it put a smile on her face. Thankyou!! excellent service, great quality flowers too. :)
Nicola Shallom
25-03-2015
I would highly recommend Flora Queen. Sent a bouquet to italy from England and where received the same day .
Clasina James
25-03-2015
Delivery in time and a nice bouquet of flowers delivered to my family member in Holland. Will use this company again.
Helen Bowen
23-03-2015
I was really impressed with your fair prices, and super amazed that you delivered on a Sunday in France, it is very rare in the rural part where my Mum lives-she didn't believe me when I told her to expect a delivery on a Sunday and they arrived shortly before midday! A great service and I will use you again in the future to send flowers, Many thanks!
Gemma Hudson
22-03-2015
Arrived right on time and looked stunning. I was really nervous about using them at first as I have never sent flowers abroad but I have been really impressed with everything and will be using them every Mother's Day to send the mother in law some flowers in spain
Mrs Kim Morning
21-03-2015
I was very impressed with the delivery service. I was thinking because it was abroad it may not be so easy but everything was done on time and very professionally. I would definitely use this service again and recommend it to others.
Christine Bowdler
21-03-2015
Easy to use the website and wonderful selection of flowers. Delivery to France was on the ball and although the flowers differed considerably from the picture, they were beautiful and made my mum very happy. Thank you, would definitely use floraqueen again and recommend to friends.
Michelle Brolly
20-03-2015
yeh its a great site but i thought it was a bit confuseing putting the address in but its well worth it :)
Elaine Preston
20-03-2015
The flowers arrived on the day I requested & the receipant was very pleased with them. Would use this service again.
Graham Thompson
20-03-2015
Fantastic easy to use site and what great flowers too! My mum was delighted recommend to all Graham
Rita Sheehy
27-02-2015
I have used flora queen for the past number of years sending flowres to the Netherlands I have always found them excellent and wo highly recommend them
Rachel Bowers
06-02-2015
Beautiful flowers, delivery spot on, great communication. Would use Flora Queen again for sure
Marianna Kaufman
22-01-2015
Have been a happy customer for more than five years. Tried a couple of other services, but never so successfully. The prices are very competitive too. Can highly recommend.
Pippa Xerri
07-01-2015
I ordered flowers to malta avd by the end of the day there were delivered. Incredibly quick.
Otto Torres
26-11-2014
The order was very easy to place, the delivery was in the day I asked for it a couple of hours past the one I asked for. The local florist had communication with me and gave the notification when the gift was delivered. The reason I give only 4 stars, is that the flowers delivered were very different from the one I asked for, nice but different.
Edgar
22-10-2014
Last time delivery was a day late (after birhday), but this time all went smoothly. Flowers and presents were exactly as shown in pictures and were delivered the exact day they were scheduled. Thank you!
Debra Burke
09-10-2014
will use floraqueen from now on for all my floral orders!
Clotilde Vanlerenberghe
23-09-2014
Feedback from the recipient was very good "Beautiful bouquet, lots of colour and the presentation was excellent.
Maria Devlin
24-04-2014
My sister has been in a nursing home in Konstanz, Germany, with severe Alzheimer's disease, and I as her only blood relative, live across the Atlantic in the USA. Her late husband's sister, though, has been faithfully visiting her, and to show my gratitude to her and my thinking of my sister I have been sending flowers to both on Christmas and Easter. The deliveries have been on time and have been received with great enthusiasm, and I am glad to have found Floraqueen and would recommend their services highly.
Monika Vas
16-04-2014
Every step of the process I was made aware of which I thought it was very thoughtful and also the timing was excellent and as requested! Thank you!
Tanja
11-04-2014
I paid a little extra for a larger bunch of flowers for my mother's birthday. She said it was magnificent and was so happy. I will be using FloraQueen again.
Rus Berzins
08-04-2014
The flowers were delivered to my sweetheart even though I gave a non-existent address. My only disappointment was that the advertised arrangement was substantially different than the lovely arrangement that was delivered.
Doug Schaneberg
07-04-2014
Being in another country was not even a problem. We ordered and the flowers were delivered without any problems. Thank you!
Alex Preston
05-04-2014
I've used flora queen twice to send flowers to my mum in Tenerife and both times I've done it the day before, they always arrive on time and my mum absolutely loved them, stunning flowers! The website is easy to use to and they keepyou informed of the status of your order. Would definitely recommend.
Debbie Irvine
18-03-2014
This is my second time to use Flora Queen. I really like the email to say that my order is being prepared and then delivered. Both times the flowers were just right and good value. Thanks!
Jill Mackenzie
07-03-2014
I HAVE NEVER USED FLORAQUEEN BEFORE BUT I AM IMPRESSED WITH THEIR EFFICIENT, RELIABLE AND TRUSTWORTHY SERVICE. I WOULD HIGHLY RECOMMEND THEM.
Judith Crozier
07-03-2014
Had never ordered flowers to send to another country so I was quite wary but I shouldn't have been as the process was straight forward. The constant contact letting me know what was happening and when they'd been delivered was first class. My parents sent me a picture of the flowers which were lovely and definitely good value for money. Would highly recommend this company.
Hl Yeung
07-03-2014
I ordered flowers for my friend in Budapest. From the photo she showed me it looked as good as the photo on the website. She was very happy about it.
Marina Kaiser
03-03-2014
Everything was perfect, the beautiful flowers, the card and the perfect time. Thank you soo much.
Anna Martinez
02-03-2014
Ordered same day international delivery. It arrived within hours. The recipients sent me a photo and although they were very happy with them, I was a little disappointed that the flowers were not exactly what I ordered. They looked a bit cheap and had a naff red bow stuck on the top.
Tracy Jentzsch
26-02-2014
Thank you so much! My exchange daughter's mother had to have surgery, and we needed to send her a hug from across the Atlantic. Your beautiful flowers where just what was needed to bring a smile to her face, so thank you very much!
Daniel
21-02-2014
The final delivered product matched to the T, in terms of what was presented on the site, delivery was on time for an international delivery and the ordering process was pretty straightforward. Will be back again next year.
Kate Miller
21-02-2014
Good quality,reliable service :)
Jill Fagon
20-02-2014
Ordered flowers from the uk to be delivered to our daughter in Germany , lovely bouquet on the agreed date - thank you
Rayner Forster
20-02-2014
Very pleased, delivery from uk to spain, on the right day and i know addresses are so hard to find there. Will be using them again. ;)
Filip Mikulas
20-02-2014
I bougght from you for my girlfriend in Germany. I can tell you that I am Happy with your service and nice stuff and staff. Good job
Graham Went
19-02-2014
We wondered if it was a bit risky ordering for delivery to Gran Canaria. But they were safety delivered on time. Only thing that wasn't clear was that it would be payment in Euros, which attracted not one but two exchange charges from the bank.
C L Williams
14-02-2014
It was my mum's birthday but she was away I holiday. So as a treat I sent her some flowers. FloraQueen were brilliant..service was great..price was right and most important my mum loved her flowers. I would happily use FloraQueen again.
Allison Harlow
11-02-2014
a big thank you to FloraQueen for processing this order for me and delivering it on time. My sister in law said the flowers are lovely.
Siobhan Finkielman
05-02-2014
Easy to use, great service
Wendy Campbell
03-02-2014
I sent a lovely bouquet of flowers to my Mum in Cyprus & she was over the moon with her surprise delivery.
Joanne Bellamy
28-01-2014
Flowers were delivered promptly to a relative in Spain - they looked fresh and vibrant. She needed to be cheered up as she was ill, and they certainly did the job. Thank you very much!
Jennifer
17-01-2014
The service i received from Flora Queen was nothing but excellent! i will definitely be using the service again and be recommending you to my friends.
Joe Zammit
11-01-2014
Just one problem there was no birthday message on the card just a blank space. I picked a message from your selection , but other then that I'm well happy with my order and delivery time and I would shop with you again. Many thanks
Luke Broadbent
(Mazarron)
16-11-2013
There was a slight issue with delivery, but I was contacted in time and it was clear and resolved quickly. The flowers were excellent value and did the job. Thank you.
Show more reviews
Show fewer reviews