Send a token of your innocent love to your darling one with these angelic white lilies and roses. Make the best day of someone's life even better, share a kind message of love on your anniversary or simply surprise your beloved to put a smile on their face with this glorious bouquet.


More about this bouquet:
White oriental lilies
Long stemmed white roses
White alstroemerias
Decorative greenery
Some of our extra fresh lilies will arrive closed, just ready to bloom.
* Vase not included
We can guarantee the best quality flowers for each order.
100% Satisfaction guaranteed.
FloraQueen always sends the highest quality flowers.
All our flowers are shipped fresh, directly from our florist.
We always deliver on time!
FQ119
Innocent Love: Lilies and Roses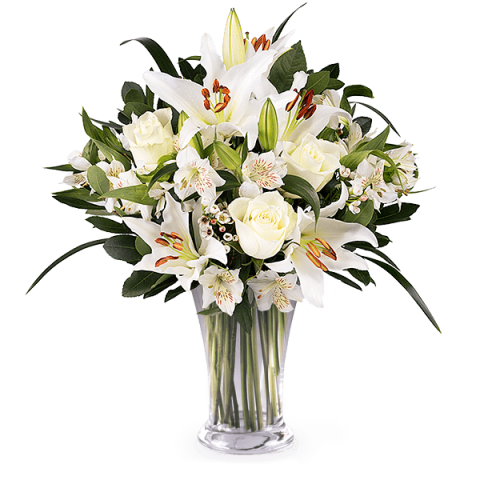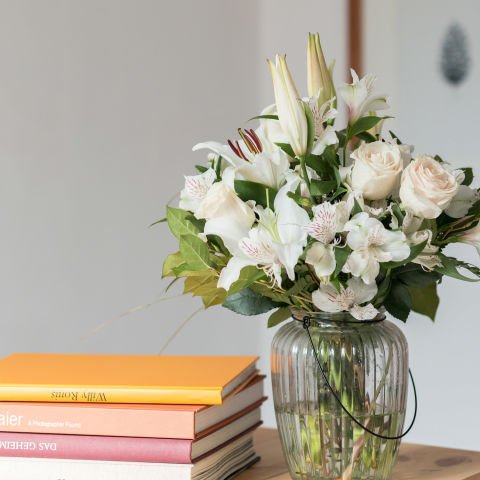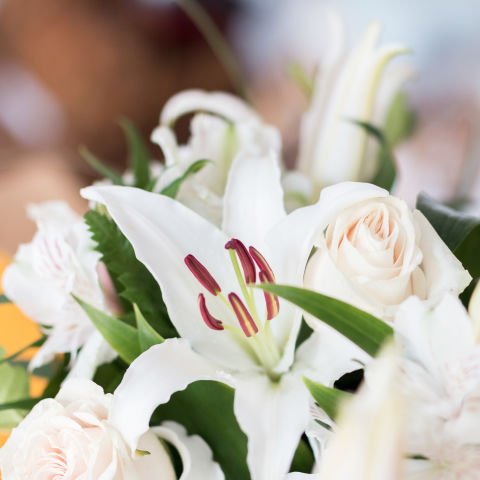 Punctual Delivery
Beautiful fresh flowers
Anywhere, anytime
Punctual Delivery
Fresh flowers
Expert florists
Bouquets you can enjoy for longer.
Some flowers arrive a little closed to ensure extra freshness and protection during shipping. Enjoy the magic of seeing them fully bloom.
What our customers say
14-02-2019
Very nice service - asked about the most convenient time of delivery and apologized that couldn't deliver in the very morning
14-02-2019
Amazing! The package, the bouquet, everything was perfect!
Ray Australia
(Wagrowiec)
05-02-2019
Good experience - the website needs some attention as when I tried to pay by PayPal to Poland the information was transferred to the recipients name and was in Polish
Suanne Mcgreachan
(Bologna)
05-02-2019
Very easy to use and flowers were lovely.
09-01-2019
Very good service and delivery
09-01-2019
Very good service and delivery
09-01-2019
The service was well. But the flowers wasn t very fresh
02-01-2019
Great surprise and timely delivery- friendly service too
28-12-2018
Todo hermoso, solo que el jarrón que mi novio eligió era rojo y me trajeron uno transparente.
Kym Mellor
(SAN Pawl il Bahar)
22-12-2018
Always very fresh beautiful flowers at a really reasonable price
21-12-2018
Awesome flowers and arrived on time
Elia Montanari
(Olgiate Olona)
21-12-2018
16-12-2018
Bouquet of flowers was amazing. So pretty and well prepared.
Linchong
(Silon, Bangrak, Bangkok)
07-12-2018
Very nice flowers but for service guy should come on the right time
05-12-2018
It was a really great surprise. The flowers are gorgeous and fresh
29-11-2018
Product is very nice but delivery was 2 days late
Tracy
(Park Island, Ma Wan,)
29-11-2018
25-11-2018
it was delivered the day after but I liked the flowers, they were very fresh n smelled good
20-10-2018
Such a beautiful surprise and the bouquet is incredible
16-10-2018
I love it! Thank you for making my day the best !
Romina
(Moreno, Buenos Aires)
06-10-2018
03-10-2018
Good service, beautiful flowers
Monika
(woj. warminsko-mazurskie)
02-10-2018
Kwiaty piękne i ogromna niespodzianka
02-10-2018
Great service ! Beautiful flowers !
26-09-2018
Great gesture and surprise. Very nice flower bouquet.
18-09-2018
It was so beuatiful to get flowers all teh way from Amerika on my birthday
Antonella
(Civitanova Marche)
14-09-2018
Aleksandra
(BEOGRAD SRBIJA)
10-09-2018
05-09-2018
Beautiful, good quality and very friendly!
02-09-2018
Delivered early, as requested from New Zealand, and looked great. We couldn't have asked for better service. Thanks FloraQueen!
01-09-2018
Perfect service. Smooth transaction. Highly recommend. Sent flowers from the US to Austria. Delivered the next day. Flower arrangement was exactly as on the photo.
Dave Shivshankar
(Horyszów Polski 91)
30-08-2018
I have used Foleaqueen for many years. I had mixed experience but this time the service has been good. I got immediate response to my emails regarding my order and most of all it was delivered in time, what I really asked for. My wife was very happy and surprised. Being a loyal customer I think Floraqueen should offer some sort of discount structure for repeated customers. Overall very satisfied. Regards Dave
10-08-2018
Perfect! Soooo perfect!!!!
08-08-2018
The delivered flowers were like the flowers represented in the website photo and were as lovely nice and fresh as I could hope for . They were delivered within the timeframe specified. They also were an excellent value. I liked the option of being able to upgrade the flowers, order a vase and order a personalized card. I also appreciated being able to order through a secure website, and to be able to pay via PayPal. I am a very happy customer and have already recommended Flora Queen to a friend. Thank you!
Istvan Kozma
(Rathfarnham)
31-07-2018
Excellent and easy service to bring viewable happiness into the homes. The flowers talk to themselves.
27-07-2018
Excellent service and you have a pretty well organised system. Thank you very much!
27-07-2018
Thank you very much, everything was perfect!
25-07-2018
The lady was very very nice, the flowers also, but although it was supposed to be lillies and roses, the roses were few and small and some flowers were not fresh. For the price it could be better.
23-07-2018
Un très bon service merci infiniment
Antoinette
(Pretoria, Gauteng)
22-07-2018
Great service and flowers thank you
Mikhail Ivanov
(Sao Paulo)
20-07-2018
Order was delivered 40 min late but I'm guessing it looked just like on the picture online. Overall, I'm satisfied.
19-07-2018
The product is ok. But the delivery wasn't good, it was supposed to be delivered till 2pm, but it was delivered after 6pm. After numerous calls that it's gonna be late.
15-07-2018
Beautiful bouquet! Fast delivery! Loved it!
Robert Wynieski
(Irkutsk)
13-07-2018
13-07-2018
VEry fast Beautiful flowers
12-07-2018
Flowers were so nice. Excellent service.
09-07-2018
Perfect, awesome fresh flowers! I love them
04-07-2018
Really pleased with the flowers I received .
30-06-2018
Great service- Amex option to pay would be a plus point. I am assistant at a large IT company. Amex is the standard payment method.
29-06-2018
We like very much excelent delivery
Nathalie Stigter
(Morges)
29-06-2018
Flowers were beautiful. Efficiënt service. Happy Client.
Peter Weddell
(Santiago de Surco)
22-06-2018
Great company who, when there were problems with the delivery address, did everything they could to get it delivered.
Ronald Dodd
(1636 Buenos Aires)
09-06-2018
Nuria
(Sant Cugat del Vallès)
05-06-2018
Roberta Luchelli
(Milano)
05-06-2018
Perfect service and accuracy!
Colin Wrright
(TALCAHUANO)
29-05-2018
Good service. Ordered in the UK, delivered to Chile the following day. I would recommend FloraQueen
24-05-2018
very Happy with THIS COMPANY.
19-04-2018
Amazing flowers and perfect on time
15-04-2018
I received photos of the flowers that were delivered, and they were even fuller and more beautiful than the image representing them on the website. The bouquet was sent to Toulon, France, and I live in California, but they were delivered precisely on time. I could not be happier, or happier to recommend the provider.I have bookmarked FloraQueen, and will continue to rely on them for all my future needs.
Cb - Nj
(Alexandria Governorate)
30-03-2018
very easy process to order.. Called beforehand. Arrived as promised. Everything was spectacular
15-03-2018
I'm so exited to get my flowers!
12-03-2018
Had some hiccups on the delivery. But it got sorted, the flowers arrived a bit late. But they did their job, and made someone happy.
Marc Lacey
(Yeroskipou , paphos)
11-03-2018
Very good service, efficient, and email to say flowers had been delivered.
10-03-2018
Responsible and customer oriented. Flora queen for any Queen!!!
10-03-2018
Very good but very , very expensive
Konstantin Wilberg
(Tomsk)
09-03-2018
Perfect service, fast, reliable, easy to do
Bernard
(Arcos de la Frontera)
09-03-2018
The flowers were perfect. So happy I've found this website.
Casey Markham
(San Cesareo)
07-03-2018
24-02-2018
Excellent! Great service! Very professional
17-02-2018
The only negative thing is that some growers are almost faded, while some haven't even started to open. Looks strange, but in general ok.
Marivic
(Calacoon City, Manila)
15-02-2018
the flowers are beautiful, the delivery is on time and it smells good too.
14-02-2018
The guy who delivered was very pleasant and flowers look very nice! Thanks
09-02-2018
Great bouquet and great surprise and service
17-01-2018
I liked the unexpected gift))
Celina
(Pozuelo de Alarcón)
17-01-2018
Muy buena entrega y composición de flores!!
02-01-2018
Great surprise. Nice flowers. More than happy
27-12-2017
The best: always original and fresh flowers, very correct service and always suitable time of delivery
21-12-2017
Thank you ! Good service, fast delivery
14-12-2017
Thank you! Service was very good, and almost EXCELLENT, & ON TIME DELIVERY, thank you very much everyone! Only problem I had was, the flower I ordered from FloraQueen's catalog, was a beautiful lilies mixed with roses & that's why I selected that particular bouquet of flower. BUT when it did arrived/delivered, it had NO lily in my order, and person delivered my bouquet she said they had no lilies to add to this order do to the holidays!!
05-12-2017
The product was OK the message going with it was wrong and it was difficult to reach someone. Though when reached people did the best possible to bring me the original card the fastest possible
04-12-2017
Very nice color combination of flowers Always very fresh great service
Karen
(Newcastle Upon Tyne)
02-12-2017
Received these absolutely Beautiful flowers delivered to Work. Innocent love bouquet. A gorgeous surprise off a very special person ❤️❤️
27-11-2017
really beautiful such a fantastic aroma
19-11-2017
Amazing products and even better customer service. I couldn't ask for a better experience than what I've received from FloraQueen. I've been their customer multiple times now and I'll be their customer for years to come. I highly recommend this florist for any occasion or need!
Robertruss
(Tambon Ban Lueam)
17-11-2017
Wonderful service on a difficult order, but it made my girlfriends birthday a wonderful one
14-11-2017
Bouquet delivered was as expected. However, I paid extra for a morning delivery, and the flowers were finaly delivered in the afternoon.
14-11-2017
The flowers were beautiful and arrived on time thank you
13-11-2017
For me it worked out perfect. Delivery in marbella, on time as promised.
28-10-2017
All great! I was aware of the location, aware when it was deliver, who signed , it was great!
26-10-2017
Fantastic service! Always go out of their way to ensure successful delivery, will always call recipient if out and arrange mutually convenient time for delivery. Never been disappointed with quality or selection of flowers either. Highly recommended
25-09-2017
Thank you! Was delivered in time.
20-09-2017
My flower order arrived fresh and on time. The flower arrangement was beautifully done.
19-09-2017
Thanks a lot ! Flowers reach to address in time and made someone very happy ! Great service, and thanks for follow up.
Ms Rita Gardner
(San Pedro Alcántara)
08-09-2017
Was so happy to be able to send my sick frIend Some Flowers to Spain from London the Web page was easy and a good selection I would use again
Gregory Thomas
(Cesano Maderno)
07-09-2017
Great flowers delivered same day to Italy (I'm UK-based), and lovely hand-written note. A++
14-08-2017
I use this service to send my boyfriend flowers in Belgium and it can be last minute and they are always on time and as requested . The last lot were amazing for his birthday . Thank you Ric
07-07-2017
Very easy and very good service. Happy girl who received them too!
05-07-2017
I live in Asia and had to send condolence flowers to Italy. Flora Queen delivered a beautiful arrangement within one day. The ordering process was easy and the email updates were reassuring. Thank you!
Marta Gil
(North Bay Village)
27-06-2017
Delivered next time, on time and good quality
Georgina Lukacevic
(Zagreb)
12-06-2017
The flowers we picked Innocent Love to be sent to Croatia to the house were beautiful flowers for the passing of my Aunty & upgraded to the Premium size. Even though I didn't see them what they looked like in the Premium size. The feedback I got from my Uncle and the family they said they were very beautiful and big. Going by this I appreciate the service and the quick delivery you guys did for us from Australia. Thank you once again
Paul Ripley
(Upton, Pontefract)
14-05-2017
Receiver was delighted with the bouquet and the international delivery was right on time! This is the second time I have used FloraQueen and will continue to do so.
Virgina Harmelink
(Herzliya)
12-05-2017
We could not be more satisfied with the flowers or service. We ordered flowers to be delivered to our daughter in Israel for Mothers Day and the presentation itself impressed all. Thank you! We will be back! Tucson, AZ
Scott Baukney
(Tremblay-en-France)
21-04-2017
Beautiful flowers were delivered on-time to my wife's hotel in Paris for her birthday.
19-04-2017
Was on my phone in Norway late on a holiday evening and I booked flowers to be sent to my friends work address in Madrid, not knowing if she would recieve them, but by 13:00 the next day she had the flowers, and I was told they were beautiful.
Vanessa Ten Hoff
(Großhansdorf)
28-03-2017
I have used Flora Queen twice now and both times the service and especially the support were excellent! I had one very specialized and personalized request and one request chosen from the web - both were excellent. Feedback and support in both cases were immediate. Thank you
Anna Vanek
(Yaroslavl region, Yaroslavl District, Polesie village)
22-03-2017
I ordered flowers to be sent from USA to Russia and the location was hard to find! The beautiful flowers were delivered just on time without any problems and it was beautiful. i will use this company again! Anna
J. H.
27-10-2016
Send flowers with them several times and usually they deliver and all is fine. Had it once a delivery wasnt sent and they corrected it fast and like my wish sent it again. The flowers were allways good and were like expected and created a smile. Till now i just can say good flowers and good support if something wents wrong.
Jennifer Whiskin
28-08-2016
I was very happy with the service that I got, my delivery was to a house halfway up a mountain and the lady who received them was delighted .there was abit of confushion with the address but that was resolved.thank you so much. carol.
Leonardo Meira
20-07-2016
I'm celebrating 11 months of relationship and ordered flowers since Brazil to be delivered in Madrid. Less that 2h30min after my order, it was delivered, with chocolate and wonderfull pack!Service amazing :D
Robert
17-04-2016
We wanted to send flowers to friends in Holland. It was easy to organise the flowers and delivery using the website and our friends were really pleased with the bouquet they received.
Troy Ingersoll
28-10-2015
My only complaint was they never wrote or delivered the card i wanted to be sent with my flowers. I told them what i wanted written and it never was done. Flowers arrived without her knowing who they came from. Kind of defeted the purpose since she is in england an i am in british columbia Canada.
Theresa S. Hofman
03-09-2015
"I just wanted to take a minute of your time & let you know how happy I am w/ your service......You resolved my issue regarding my Aunt address (which I messed up on) without any problem.......Called my 90 year old Aunt for her birthday & she was beyond happy, stated that the flowers were absolutely gorgeous..... I will/ would definitely be recommending your service to all....." Thanks Again..... Theresa (one very happy customer)
Patricia Graham
19-08-2015
Ordered a lily bouquet and some red wine to be sent internationally to Spain as a thank you to friends for the hospitality shown to my youngest daughter. My gifts arrived on time, looked fabulous and were extremely reasonably priced. I would highly recommend and will most definitely use again. Excellent and faultless. Well done!
Tine
14-05-2015
I ordered a bouquet with white lilies and roses But my friend got a bouquet that did not look at that at all.. So contacted Flora Queen and talked with Juan who was very helpful... They got in contact with the florist and the reason why they had send a bouquet with different colours was they did not have the ones I wanted... But they send a new bouquet where there were white lilies and pink roses and it looked really good and it got there on time... Did say to Juan it might be a good idea to write that the bouquet might not look like the one on the pictures as the florist in the different countries might not have the colours and flowers you want... So a great service and I will recommend to others
Nathan
27-04-2015
I brought these flowers for a partner and left it very last minute to when I wanted them delivered. I also didn't have a very convenient time frame that they needed to be sent in, but FloraQueen delivered on all cylinders and I am more than happy with the service they provided and will be using them again. Thanks guys.
Jane Bourne
16-04-2015
Beautiful fresh flowers delivered on time from Australia to England. It took me only a couple of minutes to complete the email. thank you
Cullan Trevathan
08-04-2015
The flowers were received when promised and were lovely as promised.
Tracey Cook
08-04-2015
i was very happy with the service and the flowers my daughter received were lovely i will use definitely use this company again. very happy and satisfied customer.
Margit Pirsch
05-04-2015
My idea to send flowers came later in the afternoon. The next day the flowers for the sad day of the funeral had to be delivered on the other side of the world where it was already nine hours later than where I reside. Supposedly "only" a classic simple bouquet.... It got to it's destination at the right time and in it's full glory and surprise. I was able to "show" my empathy and ease the pain of losing a loving man. Job well done!!!! I will rely on this company any time!
Corrie De Beurs
28-03-2015
I was very happy to discover Flora Queen to send flowers to friends and family in the Netherlands. All recipients were happy as well.
Monica Gregory
28-03-2015
This bouquet was for a relative in France. Delivery was very quick from a local florist and they made at least two phone calls, once in English, to be sure she was aware of delivery. The flowers were beautiful, fresh and 'rather glamorous'. I was very impressed and would certainly use this company again.
Anna
25-03-2015
Thank you! Delivered as ordered. The recipient was happy with the flowers. The only thing - no email confirming delivery as promised. But I found this information on their website in my account section. I ordered flowers from UK to Switzerland.
Charlotte Lampard
25-03-2015
I ordered the flowers one evening and they were delivered to my daughter in law the very next morning , earlier than I had expected. The web site was easy to use....in fact so easy I thought I must have got something wrong. Shall definitely use them again.
Michele Baumber
22-03-2015
FloraQueen delivered flowers in Spain with just one day's notice. My recipient was delighted and by all accounts the flowers were still looking great one week later.
A Customer In France
21-03-2015
I'm very satisfied of your services, even for an order done the day before, the delivery in Belarus was on time with a product conform and in good condition. Best regards.
A H Whitmoor Pryer
21-03-2015
Very efficient service, and a lovely put together bouquet.
Mrs W, Hertfordshire
20-03-2015
Great service and great value, beautiful flowers and one happy mum in Spain. Thank u. Would recommend for sure.
Kathleen Beveridge
18-03-2015
This is twice I have ordered flowers from the UK to Spain and they have been beautiful and arrived on time this time I added chocolate and a bear my cousin was over the moon there was no fuss I just placed my order and waited for them to arrive will defiantly use florequeen again Thank you Kath
Cherylanne Thomas
04-03-2015
I liked this company, they sent me e-mails to let me know what was happening with the order. So I was able to follow it through the process. Very efficient and prices better than Interflora.
Jacques Hinckxt
27-02-2015
My daughter in Buenos Aires had her bithday and I sent her flowers from Belgium. The person who brought the flowers didn't find her at home. He phoned her and was so kind to bring the flowers to her office. That was really great. My thanks to him
Beverley Learmonth
27-02-2015
To order 2pm previous day to delivery from uk to Palma Majorca and get them by 11am .... Fantastic service
Emma
30-01-2015
I never write reviews but I've used Floraqueen's services twice now and both times they've been perfect.
Sheila Paveling
29-01-2015
Beautiful flowers delivered on time, easy to use site. Very happy to use again, thank you.
Pierce
25-01-2015
Great service!!!I will recommend to all my friends! Flowers came exactly as pictured on the website. I couldn't believe that its possible to send flowers over the ocean from USA to Russia, but this company proved that its possible! Thank you Flora queen!
Evgeniya Byvakina
23-01-2015
I picked up a flowers online in Ireland for my mums birthday. She leaves in a very small town in Central part of Russia, in Ural. I wasn't even sure that the location will be approved for delivery. But everything was fine, flowers was delivered on time, the bouquet was beautiful and my mum had the best surprise every! She couldn't believe that I could organise it with just a click of a button on my laptop. I wouldn't be able to do that with organised work of a floraqueen! Thank you guys! :)
Rebecca Hayes
23-01-2015
Easy ordering, very fast and efficient delivery.
Silverstein Beatrice
21-01-2015
Ordered flowers on the Net the night before for delivery the next day in Europe and was happily surprised that it was delivered as promised. A beautiful bouquet which was received with joy and gratefulness !!! Thank you for a job well done .
Roland Minor
16-01-2015
I picked FloraQueen to send a Lily arrangement to a special lady in Northern Germany..... and I am glad I did. Excellent Quality and Great Service!
Simone Buckley
15-01-2015
The bouquet was beautiful and arrived on time!
Mjbartram
18-12-2014
The flowers I chose arrived at their destination on time. They were beautiful and today, one week later, look just as fresh as they did the day they arrived. I have placed 2 more orders because everyone was very pleased with the product and the service.
Andy Schweitzer
18-12-2014
The flowers arrived on time and were described as "fabulous". Many thanks for the great work. Andy
Antonio
10-12-2014
I order a delivery to a person who owns a store in a mall the only phone I have was from another store of the same mall the person wasn't there at the first try but at the second the order were delivered even in difficult circunstancies good job!!! well done!!!
Luisa Tappin
10-12-2014
I order my flower bouquet to be delivered in a rural area of Portugal, and the service that Floraqueen provided was absolutely fantastic! They call me the day before to confirm all details of my order and place of delivery. On the day, the bouquet was there at the right time and l was able to surprise my friend as l wanted. Thank you Floraqueen. I will use your services again!
Jordan Jones
13-10-2014
The service and product were fantastic, especially seeing as I am in England and the delivery was made in Saint Petersburg, Russia. The delivery was on time and I was kept updated on the progress of my order at all times.
Thomas Jackson
22-09-2014
Placed order at 11am UK time for delivery to Belarus, thought it unlikely that this would be do-able to reach Belarus by end of day. Client received the bouquet at around 5pm their time (3pm UK) - very impressive. Also worth noting they sent a picture of the flowers which was nearly identical to that on the site, often a problem - but not in this case. 5* service
Caroline
22-09-2014
After having lengthy dealings over 4 days with another florist ( they couldn't find the address or contact the recipient , despite full details and phone number) I was thrilled by the service I received. Efficient and professional .
Philip Petela
18-09-2014
No problem ordering but when trying to respond to a message found the website confusing. Flowers delivered and were great.
Gerard Poelwyk
15-09-2014
Hi your service, fantastic, I'm not onto what you call any social media to me this is more like anti social, what is going on right now is more like 24 /7 / 365 tell & show. At my age learning more is a no brainer
Maj-britt Still
09-09-2014
Thank you for a perfect service when I ordered flowers from you! I can recommend you whenever my friends need you help in the US. I live in Finland and have relatives and friends in USA, I think I may need your help also an other time. Best regards!
Kenneth Miller
13-05-2014
Beautiful flowers just like I ordered,arrived on time.will use this company again
Janet I Hohnen
13-05-2014
Thanks again for the phone followup to solve our payment problem. Really appreciate your quick response, and the flowers were much appreciated.
Igor Kolotilin
11-05-2014
What I needed, where I needed, when I needed.
Alexandra
07-05-2014
Ordered in the morning from abroad delivered the time convincet for my mum to receive at home. Bouquet of flowers and presentation were beautiful! Arrived in great condition
Carol Saville
06-05-2014
my daughter was so pleased lovely flowers (still going)
Grażyna Kułaga
03-05-2014
The flowers were beautiful so the newlyweds put this bunch on the table just in front of them
Ann Collett-white
29-04-2014
Floraqueen has a good website easily accessible online and the staff made the effort to telephone me with a query during a busy time of public holidays when many florists were closed. The flowers were much appreciated on receipt.
Miklos Vali
28-04-2014
Everything went very well.
Rosemary Elias
24-04-2014
Ordering the flowers was very straightforward. The recipient was delighted with the flowers. However, the flowers had been ordered for someone who was moving house and I wanted them delivered as they were settling in on the Thursday. The flowers were in fact waiting for the recipient when they arrived at the house on the Wednesday, which I didn't want. The recipient''s furniture etc had not yet been delivered and in the circumstances the flowers were probably in the way. However the recipient sent a very nice thank you for the flowers.
Darius Grecu
16-04-2014
Even it was uncertain of my recipient address, Floraqueen supported with the delivery and the adjusment of delivery time. I experiented a very good communication due to updates sent by email. As a first time use of Floraqueen service, I'm very satisfied with my choice.
Rita Mooney
08-04-2014
I had no problem at all in ordering flowers for a friend in Spain and wouldn't hesitate to recommend this site to anybody wishing to send flowers abroad. The flowers arrived at the time I wanted them to - perfect
Gillene Proctor
05-04-2014
The flowers were 60 th birthday gift and despite a little problem at Time of payment which was resolved and a mistake on my part about delivery Date which was also resolved everything went really well.Sorry to hear from My friend that the lift in her building was out of action so the delivery lady Had to climb the 4 flights. All in all It made my friends day- thank you
Barbara Bainbridge
21-03-2014
I was delighted with the service I received from Floral Queen .My flowers were deliverd on time and where as I had ordered fresh and beautiful Thank You Floral Queen will most certainly use you again.
James R Desantis
19-03-2014
Order was delivered at a rather awkward time -- 8 pm. The person delivering it spoiled the surprise when he called the recipient because he couldn't find the location.
Ryan Benjamin
18-03-2014
This is what the service industry should aim for! Offer a service and provide the service to the "T". You keep my promises! Also, I was out of the dog-box immediately. Cheers. Thank you!
Ivaylo
10-03-2014
Good quality , received on time !!!
Kristin
09-03-2014
I am so happy with the service provided. I live in Spain and ordered flowers to Holland. The order was placed on friday and delivered Saturday morning without any issue. They were beautiful! Thanks you.
Gabriele Cesarano
08-03-2014
Order a bouquet , it arrived the same day , many thanks!!!
Melissa Taylor
08-03-2014
Flowers arrived as ordered on the right date
Geoff Van Mierlo
04-03-2014
We ordered from this site and were quite nervous due to some reviews being quite negative when it came to delivering overseas, as it was for family attending a funeral we were even more anxious about ordering from a site we had never heard of. I know now that we didn't need to stress, the flowers arrived on the right day and we received an email from our family about how beautiful they were. I am very impressed and thankful. I would definitely order from this site again.
Kathryn
03-03-2014
Grandpa passed away due to cancer. Both Grandma and Grandpa live in Australia. I ordered Lilies and Roses, a very large bouquet and vase, from England to deliver to Grandma in Australia. They arrived perfectly, and Grandma loved them. Thank you so much
Heather Mckinlay
28-02-2014
My friends in Spain were delighted with the flowers that I ordered for them through your company. Even though they were not at home on the day that the flowers were to be delivered, they collected them the next day and everything was done very satisfactorily. Thank you for your help in making someone happy!
Mariapaola Sidoli
26-02-2014
It's nice to be able to send flowers being on a different country. Flowers arrived in great condition and still are fresh after 2 weeks. Delivery was on time and professional as well. I did receive a confirmation email about my order but not the email about the delivery being successful.
Nav Rogers
22-02-2014
Would buy again from flora queen! Placed the order then nothing more required. Delivered up to the door of my girlfriend on valentines day. The deliver was very nice according to my gf. Great looking flowers that are still looking fresh after 1 week. Card was better than what was on the website and handwritten which made it more personal. Ordered from NZ for delivery in Holland and no glitches whatsoever. A++++++ thanks for making my gfs day a memorable one!
Kirkwood Harris
21-02-2014
I'm based in the USA and they delivered flowers to my girlfriend in Brazil for valentines day. They even hand wrote the small message that came included with the purchase. Good selection of flower bouquets and delivered product looked exactly like what was pictured online. Good experience and the gf was happy :)
Andrew Porter
21-02-2014
I asked, they delivered, everyone happy
Kerttu Zimmermann
14-02-2014
I sent flowers to Belgium for my friends 70th Birthday. She liked the flowers but I saw in the photo, she sent to me; the bouquet had less greenery than your original photo and made it look quite thin, not well rounded like in the photo. I wonder, why did the flower service not phone her before the delivery. I gave a phone number with the order. She found the flowers outside of her front door when coming back from shopping. They were well drapped but I think, they should not have been left outdoors. Luckily she is living in a detached country house.
Miriam Wilson
10-02-2014
Very pleased with the service, arrive on time and the flowers were fresh and lovely, staff very polite and prompt. Thank you
Stewart Eke
07-02-2014
sending flowers doesnt seem too hard but if you send things to the ukraine maybe they will never arrive ,but i am happy to say the flowers i organised arrived even though a day late the lady was thrilled ,so a good result you might say,
Natacha Carvalho
31-01-2014
Very professional. I will defiantly use them again in the future
Jennifer Haughey
30-01-2014
The flowers were beautiful and brought some joy to my daughter and family on the anniversary of her baby's stillbirth.
David Stacey (cradley Heath, West Midlands)
21-01-2014
Never used this company before but wanted flowers sent to our friends in Spain. The website was very easy to use and understand and the prices were competitive. As our friends live in Nechite a village up in the Andalucian hills of Spain we were unsure if they would get them on time however, the flowers arrived on time as requested and were of excellent quality. Well done to all concerned and I would certainly recommend them and will use them again. Thankyou.
A Happy Customer.
21-01-2014
It was the first time i used their service, and i live in Canada. They deliver exactly what is on the pictures, respect the delivery time and the flowers they delivered are excellent. thanks.
Relly Cristian Melnic
21-01-2014
i sent flowers to Barcelona, Spain. Always in time . No need to mention the way flowers looked in reality , Outstanding presentation keep standards up
Olga
17-01-2014
Website is easy and user-friendly, order was delived in time and i've got tracing emails on progress of delivery - very convenient! would definitely recommend!
Eirini Vagena
14-01-2014
The flowers that I ordered where exactly the same as on the picture. It arrived on time and I was notified via email when they start preparing it and when they deliver it. I am very happy and will definitely use the service again. The only downside I think is that a bit expensive but they also do deliveries the same day which is very important for last minute things
Biljana Petakovic
14-01-2014
when you order with FloraQueen you don't have to worry
Show more reviews
Show fewer reviews