Capture and share a tiny piece of the emotion you feel for your loved ones and share these brilliant white lilies and gerberas in a dazzling bouquet. White flowers symbolise purity and sending this gift for a birthday or for Mother's Day certainly demonstrates the truth of your loving feelings.
More about this Bouquet:
White Lilies

White Gerberas

White and Green Chrysanthemums

Greenery
* Vase not included
We can guarantee the best quality flowers for each order.
100% Satisfaction guaranteed.
FloraQueen always sends the highest quality flowers.
All our flowers are shipped fresh, directly from our florist.
We always deliver on time!
FQ2308
Familial Love: White Lilies and Gerberas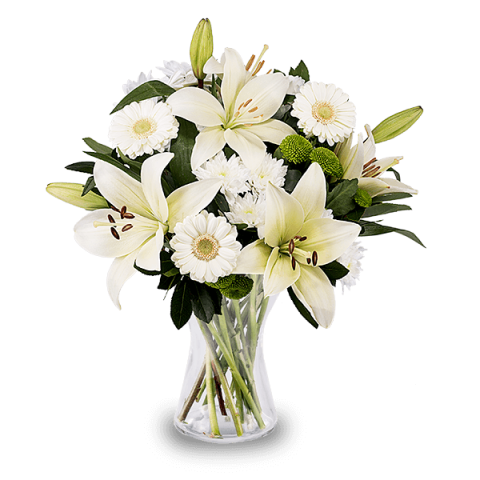 Same day delivery
Beautiful fresh flowers
Arranged by local artisan florists
7 days of freshness
Thanks to our high quality flowers, our bouquets will stay fresh for 7 days.
To guarantee the freshness of your flowers, some may not yet have bloomed when delivered
What our customers say
03-04-2018
it was on time and the bouquet was beautiful but there was no card with what promised
30-03-2018
Product is beautiful and the service is excellent
14-03-2018
Beautiful flowers and delivered on the day
14-03-2018
Very good service, the flowers are beautiful
08-02-2018
It was great but I have no clue who sent it!
28-01-2018
Flowers are so much fresh and very good delivery. Wonderful service
25-01-2018
I loved the flowers. They were really beautiful and fresh.
18-01-2018
I loved the flowers, the arrangement and the colours. The delivery was swift and the surprise part was maintained, even after questioning whom they were from.
12-01-2018
Lovely bouquet and delivery accurate and polite. Phoned in advance, spoiling the surprise tho
Zita
(Alsemberg Flemish Brabant)
23-12-2017
Very pleased with my surprise! The delivery guy was friendly.
11-12-2017
It was a nice, simple bouquet, well arranged, but some of the flowers were broken at the stem or with petals falling off.
07-12-2017
Thank you very much. Both the bouquet and the service were perfect.
06-12-2017
The product is beautiful, the service was alright as well
14-11-2017
Good flowers and arrived same day!
06-11-2017
I have never been disappointed, thank you!
Anna Castro
(Taflan sokak plato evleri)
06-10-2017
Service is good and delivery is on time the flower arrangements I like I can repeat again in coming occasions in your company.
20-09-2017
I did not see the flowers . They were sent from USA to Italy. My family told me they were beautiful and the flowers arrived on time. I am happy the this association and hope to use your service for Christmas and birthdays.
Tatjana Harper
(Valldemossa)
08-05-2017
Beautiful flowers...lasted over a week...and they looked just like the picture!
Horst F. Pfand
(Bückeburg)
03-05-2017
Anneliese loved the flowers and the very attractive vase they came in. She took the flower arrangement home after she was discharged from the hospital in Bückeburg, Germany. The flowers lasted another 10 days. The next time I need to send flowers I know who to call: FloraQueen Thank you and your staff. Have a great and stress free week. Respectfully, Horst F. Pfand
Alison
(Netcong New York)
02-05-2017
Was important bouquet (condolecenses) and the one flower wasn't in stock but was notified and replacement was asked for my approval. Have not sent flowers so faraway before USA and was very pleased and relieved went well recipient was very satisfied and impressed with the quality. Would definitely use again.
22-04-2017
Have only used this service once, but it was faultless! Sent flowers to a colleague in Italy and they arrived exactly when they said they would. ...next day no less...and I got an email confirming delivery too. Excellent. Will be using again
Ruaridh Shuttleworth
(Krasnodar)
06-04-2017
It was easy to use, the flowers were delivered to the correct person and she just loved them. She was, and still is, very very happy and I got a lot of brownie points. It might be just flowers but these flowers can be the catalyst to a relationship that will last for an eternity so they are more than just flowers. You delivered my dreams and made someone very happythanks Ruari
30-03-2017
Speedy service, great / generous flowers and good value compared to Interflora. Gets my vote!
20-03-2017
I have been sending flowers to 4 different countries very often by using FloraQueen. I am so happy with the service i receive from the entire team. Any concerns or question get answered immediately by the team. The prices are reasonable and you get points for every purchase you make to save more money. I highly recommend FloraQueen to anyone who wants to sent flowers to their loved ones.Thank you FloraQueen keep up the great service. My next order is coming up soon.Regards, Melis
17-03-2017
Ordered for the first time from FloraQueen from Australia for flowers to be delivered in America. The receiver was so delighted to receive such a wonderful and fresh bunch of flowers. I'll be using FloraQueen again. Happy to recommend.
Patricia Reid
03-10-2016
VERY PLEASED WITH FLOWERS AND KEPT UPTO DATE ON DELIVERY.
Graham Berry
17-08-2016
Quality flowers delivered in a timely manner after a very simple ordering process!
Kristin Styrvold
26-05-2016
Flowers delivered as agreed. I would use them again!
Julian Bueno
11-05-2016
Fast, simple, and efficient. No issues at all.
Nunu Bisogni
01-04-2016
FloraQueen is a reliable company which offers great service and excellent customer follow up. I have used the company a number of times, and it has always delivered my order on time, and notified me of how to track my order, as well as notifying me of when it was delivered. The last time I ordered flowers I made a mistake with the day of delivery. Although it was a busy time - Easter- when I contacted FloraQueen and asked via email to change the date, I only gave less than 24 hours notice. I thought it would be impossible to have the flowers delivered on the date I chose, the day before Easter, and yet I was contacted within a few hours and informed the flowers would be delivered on time! Not only that, but I forgot to sign the card, and was contacted by FloraQueen to let me know. All in all, an excellent company with a great communication network. I will always use this company for my overseas delivery of flowers. Although the flowers are not the cheapest, there is a great choice, and the feedback from the recipients is that the arrangements are beautiful!
Mohammad Hanif
17-12-2015
The flowers I ordered were delivered on tine. The price was appropriate.
Joanne Gradwell
28-10-2015
Fantastic!!! Best flowers in 15 years, on time... Perfect - thank you
Justin Bobby
19-09-2015
Ordered flowers to Siberia, have had a lot of problems with deliveries to there looking nothing like the picture. The flowers were essentially identical and the turn around time was 3 hours. Could not have asked for better service. The support team also kept me updated via email with response times of only 5 minutes.
Holger Sauter
(Regesbostel)
23-08-2015
When you think of somebody you love Flowers say it all. Easy and comfortable from you home with a great choice of gifts and flowers. FloraQueen was the right choice for me. cheers
Cheralyn Stols
11-08-2015
I had been searching for a reliable honest company to send flowers to Portugal to my beloved family. To be honest I was nervous about spending the money on-line, but I really had it on my heart to send flowers to my very hard working Aunt (Tia) and Gran (Avo) for Womans day! FloraQueen kept me updated on the delivery process and I received a very excited and overjoyed response from my beloved family - thank you to the FloraQueen Team for making it possible!!!
Maureen Garside
10-08-2015
Fantastic service, easy to use website and excellent value for money.
Michelle G
20-06-2015
I was very impressed with how quick my delivery was sent. I ordered at 10pm on a Friday evening and they were delivered by the afternoon the next day. Super chuffed! Thank you so much.
Stella Yochelman
23-04-2015
Hi As a client that is sending every year to my aunt in Berlin flowers to her Birthday I am very happy to announce that every year it come on time what I ordered to my satisfied . I will continue to send flowers through the companey . Thank You Stella Yochelman
Ludmila Kierczak
18-04-2015
Flowers were delivered at time and we're beautiful I would definitely recommend this company for sending flowers internationally. They have good prices and great quality. I'm very pleased with my order.
Irmgard Taylor
15-04-2015
The service was excellent especially with message that they were now delivering the bouquet so I did not have to worry that it would arrive on time.
Kay Hafner
13-04-2015
I ordered these flowers on line for my mum who lives in Cyprus. They arrived on schedule and were absolutely beautiful. My mum was so very happy with the flowers.
Irit Schevach
09-04-2015
I enjoy the service for 2 years. Never had a problem. The flowers are beautiful, wine $ choclate vry good.Arrives on time. Thank you
Mr S H Duncan
28-03-2015
I arranged for birthday flowers to be delivered to Tenerife and the stunning display arrived as promised just after lunchtime on the day requested. Simple process with PayPal option. Will def use again and again. Thank you Floraqueen.
Andrés López Cervantes
26-03-2015
The service, the payment and all rest were very good. The only thing I might complain about was that the person in charge sent me an e-mail where he told me they ran out of one specific type of the flowers I ordered. I replied after an hour and their answer took almost 3 more hours, telling me that the order was already on its way to be delivered and they used other kind of flowers. I don't have any complaints on the final arrangement, I mean, it was amazingly beautiful, but i would have liked to had a word on it.
Joelle Baeke
26-03-2015
I live in Australia and sent flowers to a friend in Poland. She showed me a picture and it was exactly as shown in the picture on the web (the white lilly bouquet). They were absolutely beautiful. I added in the vase, which was a nice touch. Thank you so much!
Grace Kelly
22-03-2015
Great service and beautiful flowers!!
Serena Le Bargy
21-03-2015
The flowers were delivered quickly and my mother loved the arrangement. Thank you.
Samantha Perryman
21-03-2015
The service was informative and on time. The flowers were well packaged and beautiful. My mother in law was very pleased with them. Will use the service again.
Lisa Barrett
01-03-2015
This was a welcome relief in excellent service and delivery exactly as promised. Thank you!
Rr
28-02-2015
Ahhh Where can I start, thank you guys! The girl really love it! And the flowers are amazing i will definitely use ur services again in the future! Best and deliver on the requested date! Good quality and on time, perfect!
Maria Gove
26-02-2015
Flowers all delivered on time and price was good but the stand out thing for me was being kept up to date on my delivery and being informed when it had been delivered successfully. You often wonder if something has been delivered when ordered so this I found really helpful, thank you!
Walsh
05-02-2015
Thank you for a wonderful service.
Kathryn Brown
16-01-2015
I can't comment personally on the actual bouquet of flowers requested however I have been told they were beautiful by those that did see them. Due to the unexpected departure of a dear friend and in another country at the time "FloraQueen" did not disappoint on their promises advertised. Their commitment to keep me updated of when my order was being prosessed and when it had arrived was just phenomenal . It's lovely to have confidence in a company to deliver something on time, especially when you are grieving and want people to know you are thinking of them. A huge thank you to all the staff that was involved
Inge Kendall Maranto
12-01-2015
both orders were on time, beautifully prepared and my friends are happy
Jane Scarth
10-01-2015
I ordered some flowers to be delivered , was not happy the recipient collected the flowers the next day from the shop , so really should get my delivery charge refunded. The flowers where for a funeral and the feedback where that they where fantastic just such a shame they where not delivered on the day requested.
Carol A Uk
10-01-2015
I placed the order and got a call to say that the local agent on Elba did not deliver on the chosen date (Jan 2) but would deliver on the following day (Saturday). Good so far. Called my friend on Sunday. No flowers. Decided to wait to see if there was a delivery on Monday so called again on Tuesday. No flowers. Had to google to get phone number. Three calls later I was told the flowers would arrive Wednesday. Thursday - no flowers. Friday the flowers finally arrived. Pretty but skimpy for the price. Unlikely to use again!
Stephen Heller
10-01-2015
A very good service would use again
Susie Yumkham
07-01-2015
I wanna thank you for your service. It was really nice of you guys to delivered my order on time. My friend love the flower and it looks the same as on your website. But the chocolate I ordered was big one but he received a small one. Only the chocolate overall it was really nice. Thank you once again. Happy new year!
Aria
03-01-2015
I had to send flowers late on Boxing Day as a bday gift all the way across Europe! The service provided by FloraQueen was speedy and the flowers delivered were perfect, long lasting and still smell lovely. I would recommend this service to anyone, the flowers were delivered on time and all for an acceptable price.
Thomas Eline
18-12-2014
I ordered flowers from the U.S. for my girlfriend who lives in Dusseldorf. I only placed the order a few days in advance and they arrived in time. The ordering process was simple and smooth. She was very happy to receive them.
Preciousstones
17-12-2014
Beautiful choices, simple, no hassle order completion and timely delivery!
Komol
11-12-2014
I liked the service offered by FloraQueen. Really amazing, fresh flowers. While in the process of selecting the size of the buckets I was wondering small is too small?) No it is not. The flowers are nice and highly recommend. As additional maybe would be good, if you give a choice to a consumer to select the flowers manually -online.
Bieri Frantzu
04-12-2014
It just worked! My girlfriend got the flowers and they where perfect!
Scott Gainey
20-10-2014
They have a large selection and delivery was on time. I really liked the email updates as the bouquet was being prepared and delivered. I got the basic size bouquet with a vase and it was still quite big. She absolutely loved them and made her very very happy. I'll use them again next month.
Mireille Baert
20-10-2014
Excellent experience from all aspects. Reliability and quality.
Jk Demetriou
13-10-2014
Got a phone call in the morning. Nice sounding man said he had a package to deliver that evening, between 6 and 8 pm. Wouldn't reveal the contents. Two men turned up by the gate at 6:10pm. With the bouquet. Asked for a signature and left. All well so far. The bouquet was OK, although the lilies looked a little past their best. The peach-coloured roses were beautiful. And still are, 9 days later. The bouquet size was a little disappointing, I expected something slightly bigger, with a greater selection of blooms (on the photo there were gerbera, in the bouquet - none). I'd give my experience 90% score. I sent the flowers to myself. To test the service. May use Floraqueen again.
Harriet Levin
(Jerusalem)
01-10-2014
You never know what you are sending through the internet. The pictures are always nice. Every order sent was delivered just as beautiful as in the picture. Delivery was on time as well.
Paul Mc Manus
30-09-2014
As stated, the flowers got to my girlfriend on time and with no issues. They arrived looking as good as the picture on the site. Also, the flower quality was very good. They lasted over 10 days which is really cool. Well done guys!!
Irene Plihal
23-09-2014
Flowers delivered on time and according to receiving party were beautiful! Thank you
Milton T Y Cassidy
23-09-2014
I want to say a very big THANK YOU. The flowers were beautiful and chocolates were also nice, wonderful presentation, same as on your web page. My friend was so delighted to receive this surprise from me and you made it all come true. Sorry if I was a little worried that they might be late, however they arrived on time, perfect, my friend was very very happy. Again thank you for great service. Much appreciated Milton
William J Tsamis
15-09-2014
Floraqueen is the only company I will use for international flower delivery because the flowers are always beautiful and fresh, the the delivery is very fast, always delivered on the day that I desire.
Andrey Stoychev
10-09-2014
They took my order and sent the flowers just in time :)
Abby Garcia
14-05-2014
I ordered a bouquet of flowers for my mother in law in Barcelona, we live in Ireland. Any other websites I looked at had a poor selection of flowers for very high prices. I was delighted to come across this site. The ordering process was very easy. I liked the way they sent me emails updating me on when the order had been dispatched to a local florist, when the florist was making up the order and then when the bouquet was delivered. My mother in law was able to show us the bouquet on face time on the iPad & it was beautiful & much bigger then I imagined. I was so happy & so was she! I will definitely be using this site again & recommending them to others.
Raymond Ojeda Jr
26-04-2014
The recipient of the flowers seemed to be pleased with the delivery. I did not see them but feel comfortable that they were delivered fresh and with beautiful color.
Ooi Family
22-04-2014
Easy to deal with. Thanks.
Daniellabeizsley
21-04-2014
Oderered flowers for my mum birthday on the 14th April, always worried about ordering flowers on line when you have never used this company before. I have to say what a great company and the flowers were amazing my mum loved them and was really happy with them, so Thanks Danni
Julija Ozerova
21-04-2014
Fresh flowers, beautiful! Good service. High quality. Thank you!
Rachel Holgate
21-04-2014
I live in South Africa and needed to send some flowers in Portugal. FloraQueen were quick, and the choice of flowers were fantastic. Very good service and they send you an email at each stage of the delivery process.
Donabell Malfait
15-04-2014
Thank you for a hassle free delivery...One of you staff called to state that the person was not at home so i called my friend to find out what time her mother would be home..and unfortunately did not know what time she'll be back but your delivery guy made that extra step, he noticed that the card's message was "condolence" so he took the day paper and checked whether there was some thing going on for that particular name and there was a gathering until noon so he redelivered the flowers after lunch. I didn't want to call my friend again the least they need at times like this is to get hassled as to their whereabouts...it's such a delight that your delivery guy made that effort to find out and redeliver the flowers without bothering anyone and updated me accordingly. I don't know about the flower arrangement but i'm sure it was lovely. Thank you so much.
Gamal Mohamed Wahab
15-04-2014
Easy orders, wide variety and perfect pn time delivery.
Michael Almeida
11-04-2014
T I ordered flowers from my home in California to be delivered to my wife in Paris they were delivered on time the next day and were the exact selection I had chosen. Excellent service. I
Ben Mcgawley
09-04-2014
Easy to use service that delivered flowers to a village in Crete on time and as ordered. I will use them again and can recommend them without hesitation.
Sarah Torpey
07-04-2014
While looking to send sympathy flowers to a colleague in Germany (from the US), this website stood out for its selection and ease of sending to a long list of countries. The flowers arrived on-time and were beautiful, and I was kept informed regarding the progress of the order. I received an email upon receipt of the order, preparation of the order, and delivery of the order. I couldn't believe that it was easier to send flowers internationally (compared to domestic experience with other companies), but it was the truth. I would highly recommend this service to anyone who needs to send flowers internationally.
George Bacon
31-03-2014
Difficult to assess when sent overseas but made the desired impact and the higher than average charge thus made it worthwhile. Recommended.
Cedric Senn
29-03-2014
Every thing went well with no problems.
Robert R
27-03-2014
I placed an order for flowers from the United States they were delivered on time and I was told they look fantastic well done
Diana Staver
26-03-2014
easy, fast and always available
Ger O
26-03-2014
Really great service, very quick and my Sister loved her flowers . Extra special effort from the local delivery guys in Tenerife!! Highly recommend them!!!
2 Times Owner
25-03-2014
My sister is working in Spain (we are UK based) and having spoken to her on the morning of her birthday and realising she was a little home sick, decided to send flowers. I found the company through Google. The website was really easy to use, had a very good offer on a really lovely white bouquet which I opted for. I requestred same day delivery, which didn't cost a fortune by any means and from the point when I paid, it was only 2 hours before I had confirmation that they had been delivered. I was really pleased with the service which was entirely hassle free and my sister was over the moon with the flowers which were really quite beautiful.
Jan Anders
24-03-2014
Many thanks to all of your team, flowers were received in the specified time as requested - keep up the good work! Many thanks
Ditta Dann Loesch
21-03-2014
The flowers wer very nice, I was told I'm in Australia, the flowers went to Austria. All I can say they got there on time, and my friend was very happy. Thank you Ditta
Martin
08-03-2014
Easy, good quality and perfect delivery. I ordered flowers and wine from Sweden for delivery to Gran Canaria.
Silvana Campello
12-02-2014
I will continue to use FloraQueen
Anita Lipsky
05-02-2014
Not on were the flowers beautiful and delivered on time, but I had mistakenly given an old incorrect address. The delivery person called in advance and figured it put and delivered to the correct address. Also the msg I wrote was nicely hand written in a card - another surprise!
Alexander Pilipenko
30-01-2014
Great service. Good quality of flowers. Delivery on time. Thank you!
Miss L Isaac
30-01-2014
Website was easy to use, enabled me to find the flowers that I wanted quickly. Flowers were ordered from the UK, to be delivered in Germany & I am pleased to say they arrived on time, to the right place. The only point I will make is that Floraqueen state they will email you once the flowers have been delivered, I did not receive this, but luckily my friend thanked me on arrival, so I knew they arrived safe & sound. Other than that, FloraQueen provided a great service & I will be using them again.
Lucie Ainsworth
29-01-2014
I've purchased a lovely bouquet for my parent's silver wedding anniversary which put a smile on my parents' faces. Delivered on time, thanks!
Janet Feltham
22-01-2014
Delivered little late but due to difficulty in locating apartment. Understandable though.
Nenad Filipovic
21-01-2014
the best way to bring a smile on a friends face ( especially if it is a female friend ;) ) and your friend is far away !!!
Pietro Farinelli
20-01-2014
As i said in the title, my order was supposed to be delivered one day earlier, even though it did not make a lot of difference to me. But ordering was simple and flowers very much appreciated.
Show more reviews
Show fewer reviews