Fresh Heart Set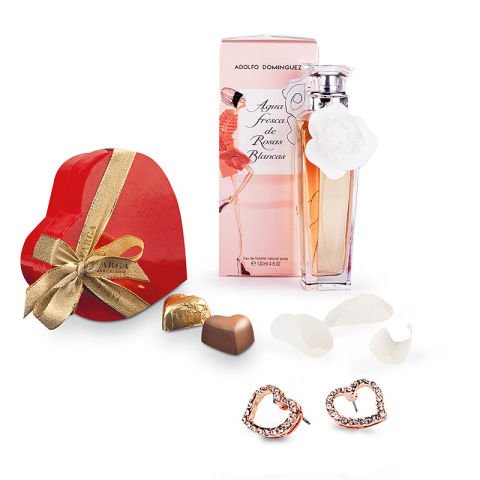 Love, passion, freshness
A heart says it all: unconditional love and passion. That's why this gift you're about to send her doesn't just express your feelings, but will also make her heart burst with happiness, thanks to this selection of jewelry, perfume and chocolates.
Gift details:
The earrings, designed by MyCollection, are heart-shaped with little pieces of incrusted Swarovski crystals, bringing a touch of sparkle and light.

The box of chocolates is also heart-shaped, and contains chocolates that are as smooth and delicate as you could hope for, made by chocolatiers Farga. Weight: 50g.

The perfume is as fresh as you could imagine, with its aroma of roses, the flower of love. Eau de toilette: Agua Fresca de Rosas Blancas by Adolfo Domínguez. 120ml.