Triple Bracelet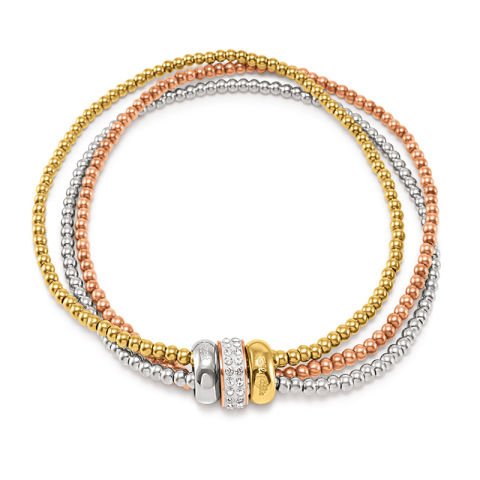 Three in one
With this bracelet from the prestigious Folli Follie you can express your feelings to your loved way in the most original way, with 3 distinct bracelets joined together by 3 rings. The best thing about this gift is that each bracelet has its own colour, the first bathed in gold, the second in silver and third in rose gold. The rings combine with the colours of the bracelets, whilst the central ring is incrusted with crystals to add a touch of sparkle.
This bracelet makes for a perfect surprise gift; we promise that she won't be left disappointed!
Gift details:
3 distinct bracelets joined into one thanks to three gleaming rings. The piece of jewelry is made of one bracelet plated in gold, one in silver and one in rose gold. The rings which join the three bracelets are plated in the same colours, whilst the central, rose gold plated, ring is crystal incrusted.

The product comes with a 2 year warranty from the date of purchase.

Contact any authorised store that carries the brand to handle concerns covered by the warranty.