Heart of chocolate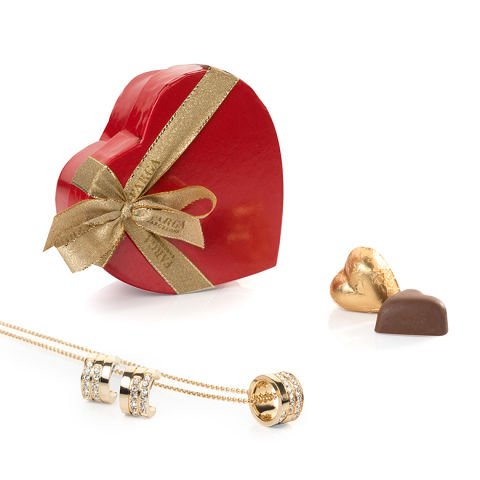 All her senses will appreciate this gift
Getting heart-shaped chocolates is such a great feeling, and one that hits the mark! A gift that is packed with love and the wish for sweet moments. And if we add a beautiful set of My Collection jewellery, in which gold and Swarovski's crystals go together, we're sure that she'll receive the passion and tenderness you feel inside for her.
Gift details:
Heart of chocolate: the exquisite chocolates from chocolate-maker and patisserie Farga take the most romantic shape possible in this "heart of chocolate". Every bite is an explosion of sensations, feelings and caresses, on the palate and in every pore of the skin. Weight: 50g.

"Crystal Pavé" pendant and earrings set: we've chosen this set for the gift as it's two pieces that, while can be shown off on a daily basis, have a romantic touch that both she and you will know how to appreciate on a very special occasion. Both jewels are gold-plated and include Swarovski crystals.
This set of chocolates and jewellery makes a special, warm surprise that will melt hearts.