Share the peaceful embrace of white carnations and roses. This dreamy bouquet of white flowers is further touched with greenery to cheer your recipient on a special day no matter whether it's a wedding, anniversary or a milestone birthday.


More about this bouquet:
Premium white roses
White carnations
White alstroemerias
Decorative greenery
* Vase not included
We can guarantee the best quality flowers for each order.
100% Satisfaction guaranteed.
FloraQueen always sends the highest quality flowers.
All our flowers are shipped fresh, directly from our florist.
We always deliver on time!
FQ7203
Dove Wings: Carnations and Roses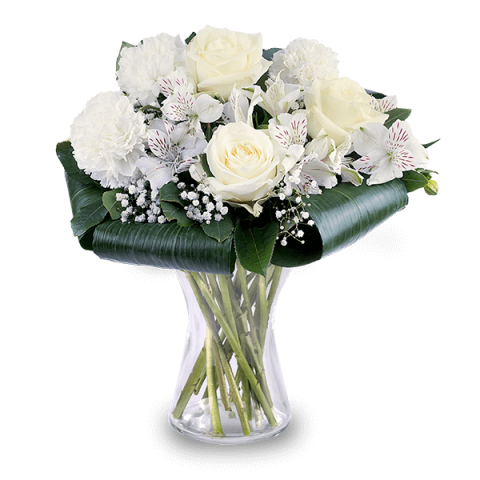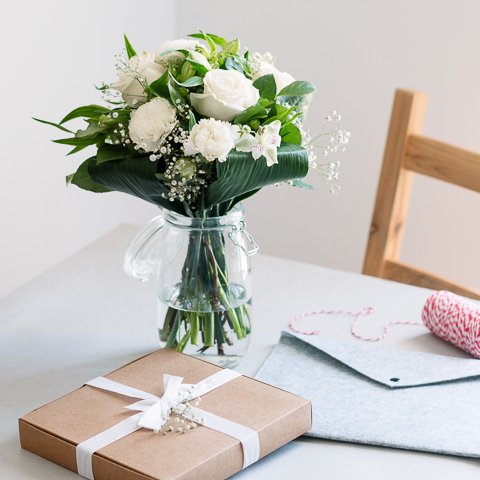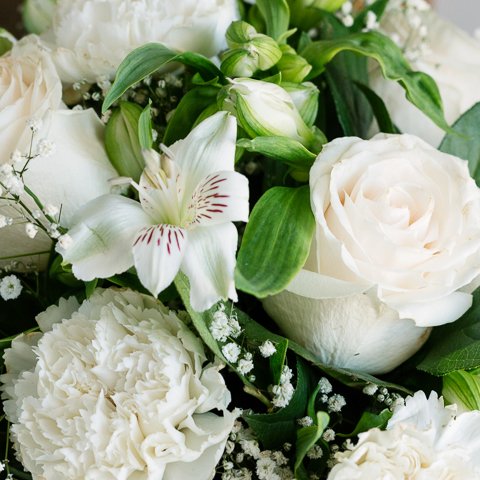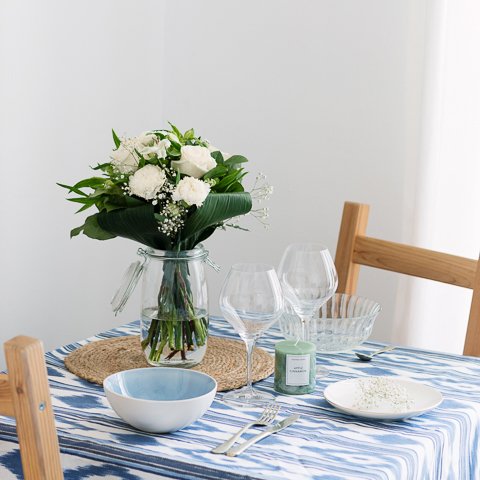 Punctual Delivery
Beautiful fresh flowers
Anywhere, anytime
Punctual Delivery
Fresh flowers
Expert florists
Bouquets you can enjoy for longer.
Some flowers arrive a little closed to ensure extra freshness and protection during shipping. Enjoy the magic of seeing them fully bloom.
What our customers say
13-11-2018
Perfect product...perfect service
05-01-2018
Perfect and beautiful. THanks
29-11-2017
Good Service Really Loved the Flowers
Geunther Iwersen
(Krasnoyarsk)
08-10-2017
Very fast and good service.
17-08-2017
This is the second time I have used FloraQueen to deliver flowers to Cyprus and I am really happy with it. No reservations at all.
Adrian Florea
(Bratislava)
27-07-2017
The service worked great. The flowers were beautiful and today/27th of July they still look fresh (they were sent on 21st of July). I asked that the delivery person to be able to talk to the beneficiary in english/german, because it was a foreigner, and this request was fullfiled. There was only one small issue regarding the delivery hour. I asked for delivery between 14:30/15:30 and the actual delivery took place around 12:00. It was pure luck that the recipient could answer his phone, otherwise the delivery person would have to return. Bottom line - money wise Vs service/goods quality is a very good ratio.
23-06-2017
I am very pleased about the quality of the flowers and the delivery on time. However, instead of hand-written notes, I prefer them printed using different fonts.
16-05-2017
Beautiful flowers, fast delivery, easy arrangement!
Michelle Maher
(Basildon)
15-05-2017
I would like to say a HUGE thank you to Flora Queen, and indeed their sister Company in the UK who prepared and shipped the flowers to my Mother. Firstly - I was having trouble paying on line and had all but given up when I had 3 calls back to back from an "unknown" number - which I usually ignore - however as they were persistent with their calling I took the call - it was a lady from Spain, who had seen I'd been having trouble (I was ordering from Arizona in the US) and she helped me to get the order processed - taking that time out to call me was WELL worth it as the quality of the product that arrived was outstanding. I will never hesitate to use this company for flowers. Clearly they have an incredible network of florists who really cared about what they sent out. Thank you to all of you.
03-12-2016
The ordering was simple and the recipients say they are beautiful Would highly recommend and use again!
11-10-2016
I have been using FloraQueen since 2008 to get my wife her special flowers she deserves, and every time the flowers arrive they look just like the pictures promised. The services always bring the flowers fresh and with a great smile. Thank You FloraQueen Services for being there.Thomas C.
Cliff
15-04-2016
Feedback from my recipients has always been VERY positive. The flowers are fresh and long-lasting. My only complaint is the website will not allow me to send new orders to existing addressees.
Gino Novia
09-03-2016
Sending someone flowers thousands of kilometres away can be hard decision to make. Choosing a company to send the right message can be difficult as well. When I chose FloraQueen to deliver flowers, I had no idea how they would repesent me. Judging by the extreamly positive response I received, I would recommend this company to anyone and everyone. Thank you to the entire team at FloraQueen for making my experience a most positive one. Easy for a 5 star rating!!!!
Catriona Robertson
29-01-2016
easy to order and good to know how order was progressing, only thing was they said they would tell me when order was delivered but I did not receive this notification. Did get updated to all other progress
Linda Ridout
09-04-2015
User friendly website! Extensive product range and excellent 'on time' delivery, every time!
Sandra M Johnson
02-04-2015
First time ordered flowers on line for my sister janet, was so easy. I had no need to worry she got them on the day I asked and she showed them to me on Skype. really pleased will not hesitate next time.
Benny Farrugia
04-03-2015
great communication easy to deal with thanks for the delivery of your flowers
Rosamaria Di Iorio
15-01-2015
Excellent experience, easy to use the website and l was kept informed of the processing of my order. Flowers were delivered on the day requested and much appreciated. Would not hesitate to use again and recommend them highly.
Arzumanyan Rima
30-09-2014
Everything was great ! Flowers were delivered on time
Veronica Boutte
29-04-2014
The florist in France ran out of white roses, and remembered the deceased's favorite flowers, allowing timely delivery. FloraQueen always has the best service and courteous ways.
Stephen Johnston
26-02-2014
Ordered flowers from the US and they were delivered quickly to Spain. Good service.
Show more reviews
Show fewer reviews