Take a step into a floral wonderland with bright red and pink gerberas to captivate your recipient. This bouquet is completed with a colourful pink sisal wrap to add an extra air of fantasy to this wonderful surprise. Mesmerise someone special on their birthday or to say thank you for their support.


More about this bouquet:
Red and pink mini gerbera
Decorative greenery
Pink sisal wrap
* Vase not included
We can guarantee the best quality flowers for each order.
100% Satisfaction guaranteed.
FloraQueen always sends the highest quality flowers.
All our flowers are shipped fresh, directly from our florist.
We always deliver on time!
FQ7211
Floral Wonderland: Gerberas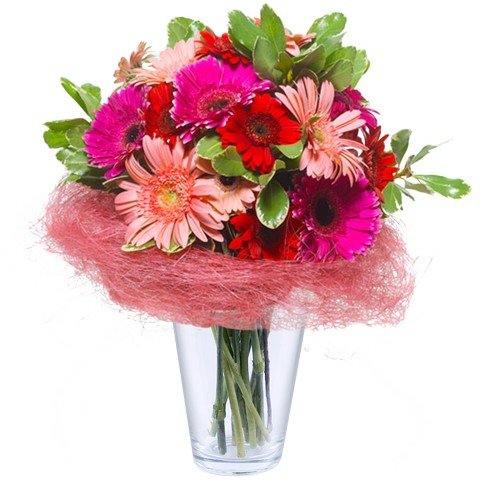 Punctual Delivery
Beautiful fresh flowers
Anywhere, anytime
Punctual Delivery
Fresh flowers
Expert florists
Bouquets you can enjoy for longer.
Some flowers arrive a little closed to ensure extra freshness and protection during shipping. Enjoy the magic of seeing them fully bloom.
What our customers say
05-02-2019
Thank you so much! Have been using you service for some time now and it's been great. Always on time, fresh flowers! Thank you
Gugliandolo Mariangela
(Milano)
22-01-2019
Jenny Buncic
(Stari Banovci)
21-01-2019
Been using this website for several years & everything was always on time.
Sandra
(03194 La Marina Alicante)
13-01-2019
Wonderful, very quick service.Good information Mom is happy
Kristina Zrilic-drvensek
(Sveti Petar na Moru 90)
04-01-2019
Very good, my Mother war very happy and Flowers are also very nice.Come excatly.I can reccomended.
Reuel
(Balneario Camboriu)
01-01-2019
Excellent !You have provided my wife with a beautiful set of flowers.Thank you
Mr & Mrs.p.french.
(Innsbruck)
29-12-2018
Very efficient these people,and live up to their good word.Thankyou Floraqueen; you help to bring families together.
23-12-2018
it was a perfect order the flowers came fast and beautiful thank you floraqueen (:
Mario Giuseppe Raffaele
(Amsterdam)
23-12-2018
All perfect, but I do not give the maximum, because I had asked for the red veil and the request was not granted.
21-12-2018
Fast; gently; human connection :)
18-12-2018
Lovely flowers, good service
04-12-2018
Lovely flowers and great service
04-12-2018
good service, flowers lovely!
03-12-2018
Thank you very much for the very good service
25-11-2018
I was surpriced in the evening
Sumanpreet
(Rivalta sul Mincio)
20-11-2018
The product is just osm nd the service is very cool nd fast
17-11-2018
Beautiful flowers and teddy
16-11-2018
Perfetto service and wonderful flowers
18-10-2018
Again great delivery, beautiful flowers to a country in South America, Very pleased ;0)
Diana Sochirca
(Baggiovara)
18-10-2018
The flowers were amazing. My relative in the hospital received the flowers and was very excited. Flowers were delivered same day.
04-10-2018
Really nice bouquet. Service very helpful.
21-09-2018
The bouquet was lovely but it was delivered two days late. It was supposed to be delivered on Monday and instead was delivered on Wednesday .
Christina Hetzer
(Bärnbach)
30-08-2018
Very quick delivery and the flowers we're beautiful. I read a lot of negative reviews and was apprehensive about using the service but I'm so glad I did! The service was excellent and the flowers were beautiful. I would definitely use them again.
29-08-2018
Flower arrived in perfect time, but sda curiernot round the correct address. The round it pm and I cant ask with nobody for day something atout flower, if they was ok or not. Bad curier
07-08-2018
Timely same day delivery for a small upcharge (totally worh it) and my girlfriend loved the flowers!
29-06-2018
Really good service, beautiful flowers could be a bit brighter colour but my sister loved it thank you
Maria
(Santiago de Compostela)
07-06-2018
Servicio rápido y un ramo de flores precioso
Sonia
(Parque das Nações)
31-05-2018
31-05-2018
I loved the product and the delivery man was nice and considered. I am very happy
06-05-2018
Hi! I am very happy for surprise. Thank you
Tracie
(Polis Chrysochous)
05-05-2018
Beautiful bouquet of flowers. Prompt delivery & even a phone call too advise putting flowers into water as soon as possible due to the temp here.
11-03-2018
Did everything I asked. Thank you.
15-01-2018
Great flowers. Delivery needs to be reviewed
28-12-2017
Nice flowers and very good service
Raisa
(Esplugues de Llobregat)
20-12-2017
Encantada con el servicio, las flores magníficas y la entrega profesional. Muchas gracias por la sorpresa a mi pareja y gracias a vosotros por guardar los detalles. ¡Felices Fiestas FloraQueen!
Nupurray Chaudhuri
(Bucharest)
22-11-2017
This is the first time I have used this firm. It is reliable and I got a good review about the delivery. I would recommend the company.
04-10-2017
Fast easy service. Kept me informed about delivery. Unfortunately the card on the flowers was blank. My message was not received
Annemarie Vanhommerig
(Buenos Aires)
25-09-2017
quick delivery & beautiful flowers :)
Sarah Webster
(Benalmadena)
29-06-2017
Amazing service. Ordered at 8.15am Monday morning from UK and my mum received lunch time same day in Spain. Very impressed
24-05-2017
Excellent service from beginning to end.Very easy to order.Site easy to use.Flowers were delivered on dates requested.
Mabel Henderson
(The Merton)
14-05-2017
Very easy to use,flowers delivered on time.
03-05-2017
Delivered just as requested . Feel very confident to use againThankyou
19-04-2017
Needed to send some flowers over the Easter festivities. Sent Floraqueen a request for an order and they delivered on time and with a lovely bouquet, great service and excellent product quality.
Jess Khanom
27-02-2015
Flowers were fresh gorgeous and delivered in time for my sisters birthday. They also have extras you can add such as chocolate and cava which I added and were priced very competitively. I also received regualr updates from FloraQueen from prepartion to delivery of my order. It was all made so easy and it made my sisters day. Thank you so much FloraQueen.
Sofia Mullick
02-10-2014
I ordered a bouquet to be delivered to my mum in Spain from the UK and I thought they were reasonably priced. The day before I received a call from Flora saying that they didn't understand the address but I said it was correct and that they should check with the post office, at this stage I was beginning yo think the flowers wouldn't be delivered but they did deliver. My mum liked the the flowers and sent me a picture but they were not as brightly coloured as in the picture on the website. All in all I would definitely use Flora again.
Elaine Morley
05-04-2014
I loved the ease of ordering and the great choice and the price and my mum was over the moon with the flowers and the card and the service was outstanding and I will be using you again.
Deanna Hooper
04-04-2014
Everything went very smoothly, the delivery was made exactly as I requested, the flowers were in optimum condition, very nice. Would definitely recommend.
Lenka Melecio
18-02-2014
I have been purchasing flower deliveries from Floraqueen for number of years. Their service is dependable, purchase conformation is received right away & the flowers are delivered on the date requested by local florist. Now, they require a signature, that flowers have been delivered. I would recommend Floraqueen to everyone.
Alba
22-01-2014
I would recommend FloraQueen as the flowers were delivered on time and fresh however I was shocked at the limited amount of stems for the price I paid.
Ms Gisela Duncan
20-01-2014
The orders were promptly delivered and brought lots of joy!
Show more reviews
Show fewer reviews