The poinsettia is sometimes known as the flower of Christmas. It is surely one of the most gorgeous symbols of the season and a gift to be given during the holidays to share good luck for the coming year. Beautifully decorated with red baubles and pinecones, our decorative poinsettia is the perfect compliment to someone's seasonal home decor or to say Merry Christmas from anywhere in the world.
More about this plant:
Pointsettia
Oval reddish-brown pot
Red Christmas bauble decoration
Red pinecones
More products like this:
We can guarantee the best quality flowers for each order.
100% Satisfaction guaranteed.
FloraQueen always sends the highest quality flowers.
All our flowers are shipped fresh, directly from our florist.
We always deliver on time!
FQ7007
Merry Christmas: Shiny Poinsettia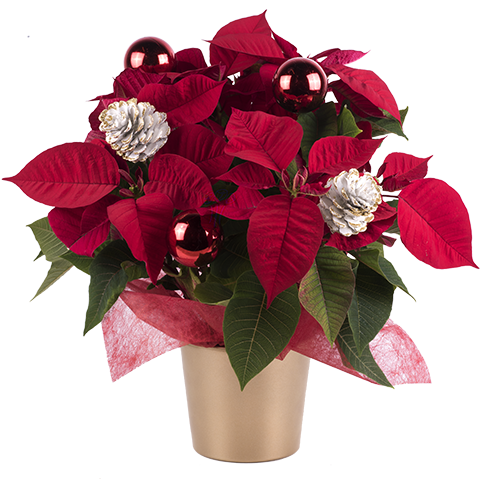 Punctual Delivery
Fresh flowers
Expert florists
Bouquets you can enjoy for longer.
Some flowers arrive a little closed to ensure extra freshness and protection during shipping. Enjoy the magic of seeing them fully bloom.
What our customers say
Michael Hoefling
(Lohr am Main)
28-12-2018
It was received in a foreign country. When my sister asked our step mom, she only mentioned my flowers. Good job!
70danones
(Cassà de la Selva)
26-12-2018
.it was ok. Delivery was on time. No complain.
26-12-2018
Todo fue entregado perfecto!
26-12-2018
One of the best services.
Michele Gordon
(Marcinelles)
25-12-2018
Delivered on day promised. Excellent communication to me to notify me flowers were delivered. Recipient says flowers beautiful. Would be nice to be able to include a note to tell who the flowers are from.
25-12-2018
The item we selected was delivered just in time, on Christmas Eve day. The mail order procedure was quick and easy. Confirmation of delivery is quick and reliable; however, Amazon has made all of us addict to consignment tracking by the minute and this is not available.
25-12-2018
Good communication with prompt delivery and a beautiful product exactly as per my order. Will use again!
22-12-2018
Everthing went very well, good product and timely deliberiert!
22-12-2018
Better than Interflora - and more reliable!
Frederic Engelbrecht
(St Gilles Croix de Vie)
22-12-2018
Flowers arrived on time and my friend was very happy with the bouquet.
08-12-2018
Very beautiful arrangement and polite delivery
Patricia
(Câmara de Lobos)
03-12-2018
The flowers are of superb quality, presentation is faultless and your service has been wonderful, you've gone above and beyond
02-12-2018
Very reliable, quick and the quality seems to be very good as well. The ordering process was easy and understandable
30-11-2018
Ver y nice flower and perfect service
28-12-2017
Thank you it was lovely, my daughter really loved it. Unfortunately the gift card 4 E was not sent with it, so she didn't know who it was from! Bit unfortunate, however the quality of poinsettia was great.
25-12-2017
So happy for my surprise!
Alana
(San Martín de Valdeiglesi)
24-12-2017
22-12-2017
It was a lovely surprise and the plant is simply stunning
21-12-2017
Mulțumită de serviciu și produs.
17-12-2017
The service was straight forward and the poinsettia plant I order arrived on time. The only issue I have was the price of the plant which was £52 for a plant I can buy for £5 in any store in the UK. The price of flowers are also very expensive.
13-12-2017
It was delivered on time and looked like the picture.
11-12-2017
works very well for international flower delivery tk you
07-12-2017
Beautiful flowers, ,efficient service
Susan Hawkesworth
17-12-2014
The flowers were very nice but the name of who it was from was left out
Show more reviews
Show fewer reviews