Surprise someone today with the perfect, balanced match between intense red roses and innocent white lilies. This arrangement is perfect for sharing your affection with someone special on your anniversary or sending someone a passionate reminder that they are in your thoughts on their birthday.


More about this bouquet:
Four premium red roses
White lilies
Decorative greenery
Bow decoration
More bouquets like this:
* Vase not included
We can guarantee the best quality flowers for each order.
100% Satisfaction guaranteed.
FloraQueen always sends the highest quality flowers.
All our flowers are shipped fresh, directly from our florist.
We always deliver on time!
FQ2324
The Perfect Match: Roses and Lilies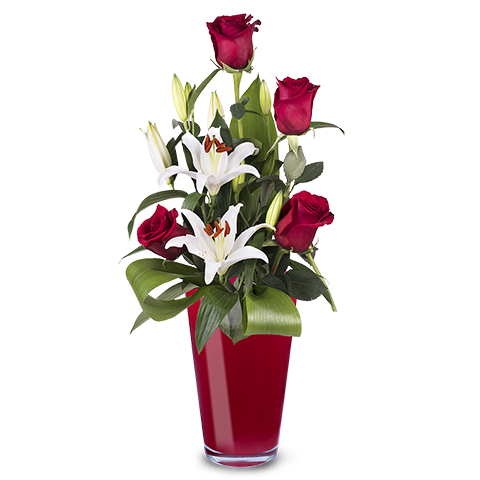 Punctual Delivery
Beautiful fresh flowers
Anywhere, anytime
Punctual Delivery
Fresh flowers
Expert florists
Bouquets you can enjoy for longer.
Some flowers arrive a little closed to ensure extra freshness and protection during shipping. Enjoy the magic of seeing them fully bloom.
What our customers say
13-02-2019
It was great, love the flowers ;)
Porschablue
(Benalmádena)
29-01-2019
Flowers delivered promptly in Spain. Beautiful arrangement
Giacomo Rinaldi
(Warszawa)
21-01-2019
30-12-2018
My order was delivered on time, and made my event successful. I would not hesitate to use them again...
Polychronis Makrakis
(Khet Wattana, Bangkok)
25-12-2018
Delivery at right time and perfect flowers and roses. My Girl was 100% surprised and happy. Thank you!
07-12-2018
it was really good even though I wasn't there to receive it.
Gurin
(Pilar de la horadada)
03-12-2018
Nami
(Oami Shirasato-shi, Chiba)
02-12-2018
We are very disappointed that you delivered one day late - so much for the surprise. The quality of the flowers however was very good. We just wished you delivered as promised..
Daniele74
(FRIEDRICHSHAFEN)
28-11-2018
Good experience, delivery in time and good flowers quality
Orpha
(Kabankalan City, Negros O)
12-11-2018
I didn't receive any products from you.
07-11-2018
Would be better, if I would receive flowers in the morning. Would be a surprise. But as it was so late, surprise didn't happen :(
17-10-2018
Flowers were delivered on time and were beautiful.
17-10-2018
It was beautiful but bit more of detailing and it'll be perfect.
Zoë
(Newcastle upon tyne)
17-10-2018
Great flowers presents perfectly, delivery person was smart and friendly. Great service.
Fergal Wright
(Bairro Atuba CEP)
11-10-2018
11-10-2018
Very nice service and easy delivery
Shek
(Tai Po, New Territories)
06-10-2018
I got my beautiful flowers today. A bit disappointed that flowers just left them outside the house. Very lucky that no one pick them up as there are peoples going in and out of the buildings. Anyway, thank you for delivering these beautiful flowers.
02-10-2018
It's was smooth and easy, just had to give my name.
Polina
(Saint-Peters Burg)
01-10-2018
24-09-2018
Flower and chocolate superb quality. Delivery girl was friendly and very sweet.
23-09-2018
Great service and flowers, as described on your site. Thank you !!!
J Luis Gutiérrez
(Bogotá)
22-09-2018
Easy , I like that they have some options for the delivery time, the only friction I had was.... I did choose the flower to be delivered after 14hr.(2pm) Of the day and got delivered in the morning
18-09-2018
Cool and fast service. Thank u so Flowers arę awesome too
14-09-2018
The flowers were beautiful, and the delivery service was great!
29-08-2018
Very good service. Thanks
June Kelly
(Santa Catarina Pinula)
21-08-2018
Inna
(Harpenden, Hertfordshire)
04-08-2018
Thank you !!! It's fantastic service . very fresh flowers. it's almost a week i have flowers and the flowers are still in very good condition. Thank you very much !!!
29-07-2018
my girlfriend really liked the flowers and everything went well, she said it was her best birthday present ever so I highly recommend it
25-07-2018
Personalised service, beautiful flowers provided for the right occasion.
23-07-2018
Beautiful flowers. Wasn't home when they got there so the man called me and asked what to do. Left them where i asked and then called me later to check if i found them and all was good. It's a fifth time i receive flowers from them and 4 times out of 5 they were fresh and big. One time was disappointing as they started dying almost immediately.
13-07-2018
The service has been Excellent, as ALWAYS :-)! Congratulations guys, keep up the Wonderful job! Matias Crossa
25-06-2018
Thank you sooo much. My boyfriend is on Florida but it feetlike he is just near because of your service. The flowers were pretty and presentable. Thanks flora queen.
15-06-2018
Very very flowers, good stuff, the girl delivered and gave some advice about take care for flowers
03-06-2018
Excellent service, the price could be a little optimized.
25-04-2018
Good and prompt service many thanks
21-04-2018
Beautiful roses that smelt wonderful
17-04-2018
Very beautiful and good service.
Harry Farnham
(Friedrichshain, Berlin)
12-03-2018
28-02-2018
Excellent,reliable service. Professional and user friendly webshop portal. I am kept updated on the entire process. The bouquet was fresh, beautiful, arrived on time and made the recipient happy.
24-02-2018
Flowers were always fresh. Deliveries were timely. Used this company several times-no complaints.john A. USA
17-02-2018
I loved the flowers but I was delivered to next house as I was not there . I did not like it as it wanted to receive flowers myself
Tarja
(Bad Friedrichshall)
14-02-2018
very fast service and good quality
03-02-2018
Very beautiful roses and good service !!
01-02-2018
Quick delivery and perfect service (the shop called my friend to know where she was, close from house but not at home, and directly delivered the bunch on site). I recommend Order passed from France
08-01-2018
In my opinion product and service are great
18-12-2017
Wounderful surprise and excellent service !
14-12-2017
Beautiful flowers, quick and helpful service
22-11-2017
Reliable seller, accurate product and timing
17-11-2017
Excellent service ! Thanks
15-11-2017
Genius and amazing service, I was able to send flowers in Russia all the way from Italy. Tough they were 5 hours late and there was no card. Still, amazing service
Shafiulhamza
(Wzdol Stara Wies)
13-11-2017
I'm very happy and satisfied with your services. It was perfect as it described and on time delivered. Thank you
Frunza Gheorghe Eugen
(Berlin)
12-11-2017
quick delivery , wonderful flowers,very professional team
06-11-2017
Super fast same day delivery, everything was as promised and perfect!
Mohammedqayed
(Marrakech)
01-11-2017
Everything were great... thanks.
Marina Ingram
(Heilbronn)
24-10-2017
Over all good service but a little expensive
20-10-2017
Flora Queen Never disappoints!! I always send flowers through this website and they are fantastic!! I recommend it to everyone!Xoxo
08-10-2017
Use to send to flowers to Singapore. Easy to do, choice of bouquets, and have no complaints
14-09-2017
As expected, great service & timely delivery in South Russia
Matteo Salomoni
(Shanghai)
11-09-2017
Very good service, deliveries have always been on time.
07-09-2017
On time, The same as in the picture Obviously the chocolate will not be the same but anyway is good.
05-09-2017
Service is really good, easy to order and the variety of bouquets is quite wide. My mummy received fresh flowers and was happy with them for more then a week. This is the 2nd time we've been using Flora Queen services and would highly recommend to everyone
04-08-2017
excellen service. I'll use it agan: my present was very very very much appreciated!:)
27-07-2017
Extremely user friendly and efficient. Will definitely use again.
Baptiste Ottevaere
(Munich)
27-06-2017
very satisfied with the service
Kostenczyk Mihai
(Saint Petersburg)
22-06-2017
Excellent service provided, delivery right on time as promised.Many thanks,
12-06-2017
I've used FloraQueen twice. Each time service was timely and the recipient of my gift was very pleased.
03-06-2017
trusted. everything went smoothly
20-05-2017
Prompt service, same day delivery was made even with short notice.
Cindy Wider
(Port Lincoln)
15-05-2017
I was so pleased with my order of gorgeous roses and oriental lillies sent to Australia from the UK on time for Mother'sday. Thank you so much FloraQueen for outstanding service. This is the third time I have ordered from you (another time sending to Australia and once to Canada) and the service has always been impeccable. Thank goodness I have found an international florist that I can trust and rely upon.
Beppe Sydney
(Georges Hall, Sydney)
14-05-2017
Great service , beautiful flowers and very good customer service ... by the way mum is very happy
Miguel Angel Sosa Casas
(Madrid)
28-04-2017
Good experience. Well done.
07-04-2017
Thanks for your excellent service.
Jacky Mccullen
(Selters-Taunus)
21-01-2017
I was very pleased with the flowers I sent to my friend in Germany. As with all web sites it is difficult to know the quality when using a company for the first time.... but with Flora Queen I haven't been disappointed. Would recommend and will certainly use them again.
Christopher Sweet
(Považská Bystrica)
08-12-2016
Flora queen is my absolute trusted choice. There was a variety of great choices of flowers and many options to add to your order just to make your friend or loved one happy. I'm pleased to say I'm impressed with my order it was everything I expected, my girlfriend got them just on time and very fast. Thanks Flora Queen, I'll definitely recommend this site to anyone who's sending flowers internationally.
Aine Cabrey Muller
28-09-2016
Great friendly service big thanks
Christa Lutz
13-05-2016
No complaints at all ! Services is excellent everyone I sent Flowers and more was really happy . Thank You Job well done.
Peter Bradshaw
15-02-2016
As soon as I placed the order I began to have doubts about this company. I was in a hurry on Saturday to organise a delivery for Valentine's Day at such short notice. I had read somewhere that deliveries from a flower shop in Poland on any Sunday could be a problem - and even more so on St Valentine's. I am usually very careful and cautious about doing 'due diligence' - always check out online companies before using them. But in this case I was pleased to find FloraQueen who did deliveries on Sunday and at short notice. My caution 'went out of the window'. I was horrified, therefore, after placing the order, when I checked out FloraQueen on TrustPilot. The review ratings are overall poor. There is clearly a problem with this service but there are also some very satisfied customers. I was worried. It did not concern me that the flowers would not arrive Sunday p.m. as promised (after all, I gave only one day notice). My concern was that they would not arrive at all. I became more concerned when I realised there would be no one at home to collect the delivery until later yesterday. I need not have worried. A delivery was attempted late afternoon yesterday. The flowers were left with a neighbour. My friend collected them when she returned. Then, at about 21:30 yesterday evening she received a phone call (I think from the florist) to check that she had received the flowers from her neighbour. That was excellent service. I understand the problems that can occur with international flower delivery. I imagine that one big problem is the reliability of the local florist. In this case that service was excellent. Well done to the florist in Czestochowa. Thank you to FloraQueen, who sent me the three emails as promised, including the one immediately the flowers were delivered. Why only 4 stars? Clearly there is a problem with the business model, as indicated by the number of poor reviews.
Veronica Lomota
26-06-2015
Perfect service. On time delivery. Fresh fowers very good looking. All OK!!!
Tomasz Korablin
18-04-2015
High quality service , I would like to recommend flora queen as a very reliable company
Kristie Carter
10-04-2015
easy to work the website. great choice. my girlfriend was very happy with her flowers!!!
Corlan Narcisa
04-04-2015
Thank you so much! My mom was very surprised and she said the flowers are amazing!
Frank Maione
02-02-2015
The flowers have been send on time and the flowers where fresh and looking amazing, my friend was so happy. Great service and I would recommend
Roberto Lucci
17-01-2015
excellent service. Thank you. Will recommend your services whenever possible
Margaret Ashfield
07-01-2015
Very pleased with service, flowers arrived on day requested to my daughter. Saw them via Skype and was pleased with quality
Felipe Kahn
21-12-2014
I sent my request at 0:00 (Brazilian time - 03:00 of Germany) and the delivery happened at 08:00 (Brazil) - 11:00 (germany), berore I expected. I'm glad to recommend Flora Queen to anyone.
Albert Didcock
05-12-2014
The service was excellent and ordering easy to do. Thank yoiu
Vikas
04-12-2014
I like the timeliness of your service. Delivery as per commitment. Even web portal is easy to use. One thing though based on the recent order I gave, pic had 4 roses but when it got delivered it had just 2, which is not ok.
Filip Kitundu
27-11-2014
What can I say more than I am a happy customer!
Kathleen
18-10-2014
This was a very special time for me becoming a nan for the 2nd time and not being able to be there for my beautiful daughter in America. She is a unique girl, gutsy and strong and now has 2 gorgeous boys. The flowers and gifts I sent meant a lot to both of us. Thank you from a proud mum and nan in the UK x
Christian Fett
17-10-2014
I was glad to receive a reminder about Anasrsyia's birthday. The delivery of flowers was on time.
Konstantinos Georgiadis
07-10-2014
I WAS WORRIED ABOUT MORE OR LESS FOR THE DELIVERY TIME BUT IT DELIVERED ON TIME AND MY CHOISE WAS EXCELLENT. I FULLY RECOMEND IN CASE YOU MAY WISH TO SEND A ROMANTIC BOUQUET!
Colin Strong
(ILLES BALEARS MENORCA)
23-09-2014
Just had red roses delivered for our 40th wedding anniversary whilst on holiday in MENORCA. What at surprise. Many thanks.
Felix Muller
21-09-2014
as I write above ... excellent .... only one I would like you to review. your time-cutted-discount-codes for new order are not well-thought counterproductiv. Better offer a discount for next order when customer likes. If I have a discount when needed I easy will shop twice and next time earlier ...
Le Boulicaut
11-05-2014
The website is very clear and it's really easy to choose and customize your order according to the purpose. I've been able to choose the following : - a bouquet : "Perfect match: red roses and white lilies" - I've added a love card According to me, the price is reasonable considering the quality of the service provided: I've paid a total of 49€. I live in France and my fiancee lives in Korea so this website is to me a real opportunity to offer a very surprising gift. The staff handles the contact with the local florist so you don't have to worry about the language and currency issues and the service is really quick. Just make sure that you order at least 24 hours before the delivery date that you wish. I hadn't taken in account the time lag so I had had to delay my plan. Also I have been worrying due to a lack of information regarding to the progress of the delivery probably because of the florist. Anyway, after contacting the customer service, I received a quick response saying that everything was fine and finally my girlfriend contacted me shortly after to thank me for this attention. Also I should say that the local florist didn't have the white lilies that I had ordered but he replaced them with local flowers very meaningful for my girlfriend and he also put additional roses not mentioned on the website. In conclusion, don't hesitate and order now, you won't be disappointed, I'm really glad that this kind of website exists. :)
Alejandro Noriega
06-05-2014
Everything was right, no major issues, nice flowers and correct service.
Phil W
05-05-2014
I wanted to surprise my girlfriend in Spain, we hadn't been together long and I didn't even know the full address. My griefs have it me in a Sunday afternoon, and the flowers are received by her on Monday morning. A truly exceptional service with delivery that couldn't have been and faster. I'll definitely be using again as she was over the moon :-) Good job FloraQueen!
Mary Levenson
24-04-2014
If you want to send flowers a broard, this is the site to use. Quick and easy. The choose is good and reasonably priced. The service is excelent.. I have not sent flowers abroad before and did not know quite what to exspect. I am glad I chose 'FloraQueen'. My daughter was very pleased with them and said they were beatiful. Floraueen every time for me .
Edward Goodes
23-04-2014
Fantastic flowers delivered very very promptly. Great service 10 out of 10.
Alan Magnoni
17-04-2014
it was a surprise for my girlfriend - she's volunteering in Bolivia - and the flowers came on time on her birthday! she was happy! happy wife, happy life :)
Elizabeth Nikl
17-04-2014
Your service was fast, reliable, the party in Germany was very happy thank you !!
John Buttery
17-04-2014
The order went smoothly, I didn't receive confirmation of the delivery. That would have been good. The flowers looked wonderful.
Faisal
09-04-2014
honest people .. outstanding work .. Thank you ..
Sean
07-04-2014
Always delivered on time, will use again for sure.
Joanne G Slater
04-04-2014
As above, very pleased with flowers etc Only one concern, was advised that notification would be sent by e mail , when delivered, this did not happen !!! An e mail was sent during the prep of the product but not after delivery, thus did not know if product had been delivered and received as a gift, to my family in Switzerland .... I had to ask them instead !!!!!
Thomas
31-03-2014
The service was punctual and flower is delivered to address i provided in Berlin.
Cristi
18-03-2014
It was easy to make the order, to pay. I've got almost instant confirmation that my order was processed and the flowers was delivered as asked. Thank you!!
Steve Megal
06-03-2014
I've been really satisfied with the service FloraQueen provided. The delivery and products were very good I will order on the site again and will recommend them
Walter
22-02-2014
I am ver pleased with the flowers Floral Queen has sent my friends
Donald Andersen
21-02-2014
Just wanted to take a moment to thank you for your fantastic service! Not only did they fix an address mistake via an email to their support team, but unlike other online florsts I've attempted to use in the past, they actually delivered! Not just delivered but on time, St Trifon's Day (Valentine's Day to us Westerners), but they also did it with no fuss or hassles either to the lovely recipient or yours truly. Finding reputable and reliable service in Eastern Europe is near impossible, thank you Floraqueen! I am recommending you to all my friends with family and loved ones abroad.
Amadote Lionel
21-02-2014
Don't hesitate...Good Service!..
Luyckx Steven
13-02-2014
I used floraqueen for the second or third time and they deliver always on time. they have a competitive price and the deliver all over the world!
K. Woolbright
17-01-2014
The flowers arrived, as expected. The additional sparkling wine with it, didn't arrive though. Upon sending them an email, however, they replied promptly, apologized and processed the refund. No complaints here!
Nuno Alexandre Silva
10-01-2014
I have ordered from FloraQueen several times and the service was always perfect, on time and the flowers delivered always of the highest quality. i recommend them to everybody
Show more reviews
Show fewer reviews